What Goes Where @ Western
What Goes Where @ Western
Waste Streams @ Western
At Western there are many waste streams and it is important to appropriately separate waste into these streams. When items end up in the wrong stream, it causes contamination and leads to more waste going to the landfill. Check out the different waste streams on campus in the drop-down tabs below.
Containers Recycling includes:
Cans, bottles, tins, cartons, plastic food containers, and plastic lids
Please ensure that all items put in the Containers stream are mostly clean from food waste. Dump any remaining food in the Organics bin, then place the recyclable item in Containers.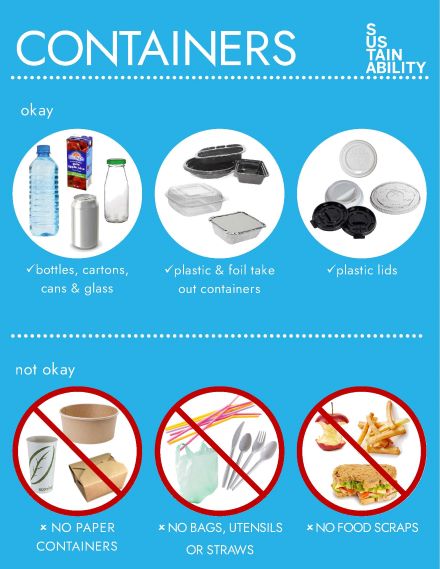 Paper Recycling includes:
All types of office paper, newspaper, and magazines
The paper items must be relatively clean for the stream, so please no messy pizza boxes, no napkins, and no tissue.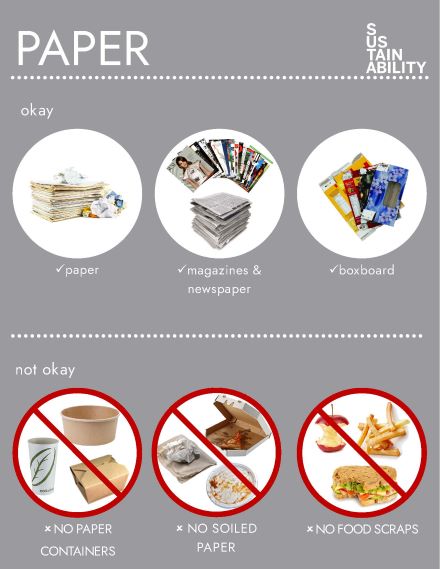 Western has an
Organics
stream that includes:
All food waste, paper-based packaging, napkins, and paper towels

No plastic. This means removing plastic lids, cutlery, straws, and bags from food packaging before placing the right items into Organics
Landfill waste includes items that can't be recycled such as:
Chip bags, plastic wrap, plastic cutlery, and plastic straws
Other Special Recycling Items
Individual departments are responsible for managing and coordinating their confidential shredding services. Shredding Services is not listed in Mustang Market; please see Western's Preferred Vendor List to find contact information for Western's preferred shredding services vendor.
Debris generated during construction, renovation, and demolition of buildings, roads, and bridges. C&D materials often contain bulky, heavy materials, such as concrete wood, metals, glass, and salvaged building components. All requests for Construction & Demolition Waste can be processed via the Waste & Recycling Portal.
What is E-Waste?
Electronic waste or e-waste is the term used to describe electrical or electronic devices once it has reached the end of its useful life, and is destined for disposal. Electronics that can be refurbished, reused, resold or salvaged through material recovery and recycling, are also considered e-waste.
What E-Waste can be recycled at Western?
Click here for the list of acceptable e-waste items at Western.
How do I recycle E-Waste on Campus?
E-Waste is collected for recycling on a regular basis at various locations on the Western Campus. If you have e-waste and are unsure if your location has an e-waste recycling bin, please submit a ticket via the Western Waste & Recycling Portal.
Western has an agreement with our stationery vendors (Staples and Grand & Toy) to pick up and recycle our ink and toner cartridges from Western administrative offices and spaces. This includes ink cartridges from printers as well as old toners from our Multi-Functional Devices across campus. Please keep your toners and ink cartridges together in one location for pick up when stationery orders are delivered.
If you do not expect a stationary order soon, and need your ink and toner cartridges picked up, you can make a special request to have a pick up done by:
Grand & Toy - complete the form at the THINK tile on the Grand & Toy punch-out homepage in Mustang Market
Staples - email easyservice@staples.com (include Account# 372578)
Please contact sustainability@uwo.ca with any questions or concerns regarding ink cartridge disposal and recycling at Western.
Western works with a Scrap Services Provider who is able to help us reuse and/or recycle much of our large, bulky items – things like furniture, filing cabinets, old renovation materials, shelving etc. Additionally, there are processes in place to manage the disposal and preferably, recycling of high volumes of one type of material (paper, plastics, metal, etc.).
To access these services, please submit a ticket via the Western Waste & Recycling Portal.
Occupational Health and Safety is accountable for ensuring a healthy and safe work environment through effective risk management. Occupational Health and Safety has chosen RPR Environmental to handle the waste collection program at Western. RPR Environmental provides Western with the services of technical and environmental specialists who provide a unique, hands-on approach to waste management. Please visit Western's Hazardous Waste website for more details.
Western actively recycles all our fluorescent light bulbs and lamps, which are collected by Facilities Management staff and placed for recycling at various locations.
Facilities Management Staff can request a recycling pick up via the Waste & Recycling Portal.
Western collects and recycles wood waste generated during construction/renovation projects on campus, as well as wood pallets used for shipping products on site.
All requests for Wood Waste Recycling can be processed via the Waste & Recycling Portal.
Resources
Click here to view printable sorting signs
For waste sorting in residences, visit the Residence webpage to find information about appropriate waste sorting, where to find each residence's Recycling Room, and moving tips.