Green Campus Tours

Western's campus has many different sustainability features from beautiful and serene gardens and green space, to an old growth forest patch and the Arboretum that encompasses all campus grounds, a community garden producing food and native plants, LEED® Certified green buildings, sustainable transportation options, waste management initiatives, sustainable food, on-campus energy production, and GHG reduction initiatives. We are committed to enhancing the sustainability of our campus, and would love to show you around these exciting initiatives.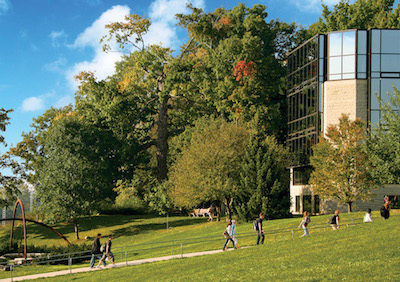 Tours are open to campus community members as well as the general public. 
Student volunteers from EnviroUSC provide the tours, which can be catered towards your areas of interest. With 12 green spaces and natural features to visit, 13 LEED® Certified green buildings, and a few other stops along the way, we're sure you will find lots of great places to explore, learn about how you can contribute to a more sustainable campus, and find ways to get involved. 
If you're interested in booking a Green Campus Tour, please send an e-mail to sustainability@uwo.ca including the following information:
Your name
Your e-mail
Any accessibility requirements
Several ideal tour dates and times
Location(s) you're specifically interested in visiting
If requesting a tour for a group, please identify the number of individuals in your group
A Green Campus Tour representative will contact you shortly with tour details. Thank you for your interest in Western's Green Campus Tours!
Check out the tour stops or take yourself on a virtual tour through the map below.