Energy & Carbon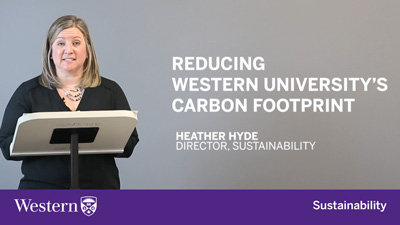 Director of Sustainability, Heather Hyde presents Western's plan to reduce carbon emission. WATCH NOW.
Western has a number of programs, initiatives, and infrastructure that aim to reduce carbon emissions and conserve energy usage on campus. We have committed to ambitiously reduce our greenhouse gas (GHG) emissions by at least 45% by 2030, relative to 2005 levels, and to achieve net-zero emissions for campus operations by 2050. As part of Western's GHG reduction plans, an energy loop is being implemented on campus. The chilled water network is being upgraded so it can operate year-round and allow for the sharing of excess energy between buildings. New buildings and retrofits through our Deep Energy Retrofit Program (DERP) are being designed to integrate with the energy loop, and are resulting in ~60-80% reduction in GHGs. 
Our campus currently has 13 LEED® certified buildings, which include features such as: bird-safe windows, native plant and no-irrigation landscaping, low-flow water fixtures, EV charging stations, green roofs, rooftop solar, local building materials, high-efficient LED and occupancy-sensor lighting, and high performance windows. 
One of the initiatives we have implemented to conserve energy is the Demand Management program, which allows us to reduce our electricity consumption used for cooling buildings. Effectively, this also reduces Western's need for more energy infrastructure. As the campus grows it would be natural to add or expand chillers to grow with it. By investing in efficient systems, and retrofitting or upgrading others, Western can continue to grow while drawing less energy from the grid. 
Electrical, Gas and Renewable Energy Consumption: Trends & Projections
As displayed in the above graph, Western's electrical consumption has remained fairly steady from 2005-2020, while our gas consumption shows more variance year to year, but overall has increased.
The projections from 2021-2025 demonstrate an example of a pathway that can enable us to reach our carbon emission goals. These projections include increasing electrical energy, reducing gas consumption, and adding an increasing amount of renewable energy on campus. 
Watch this video on Western University's New Vision on District Energy to Mitigate Climate Change to learn more about how our energy loop and Deep Energy Retrofit Program are helping us reach our carbon goals.