Western Sustainable Leaders Program (WSLP)
Western Sustainable Leaders Program (WSLP)
The Western Sustainable Leaders Program (WSLP) is a way for students to engage with sustainability throughout the year with a network of like-minded students from across campus interested in sustainability. Each month features a different theme with educational and experiential opportunities to get involved!
The WSLP engages guest speakers from across campus and the broader community, providing opportunities for students to network with professionals and peers involved with a wide range of sustainability initiatives on campus and in the community. This program also supports students in earning the WWF-Canada Living Planet Leader certification by offering sustainable living tips, volunteering, and student leadership positions. 
WSLP Events
With in-person experiences opening up on campus, we're very excited to offer more face-to-face events and activities this year, while also continuing to offer virtual events as well. If you'd like to sign up to our mailing list and receive WSLP updates, please email sustainability@uwo.ca!
Careers Around Sustainability Panel - Thurs. Feb. 3 @ 2:30-3:30pm
Join the virtual discussion with Western faculty and graduates to learn about how you can incorporate sustainability into your career, and also about various fields and sectors of sustainability work. Panelists include faculty members Elizabeth Steyn (Faculty of Law) and Desmond Moser (Department of Earth Sciences), and Western staff member Jessica Cordes (Sustainability Engagement Coordinator).
View the webinar recording here.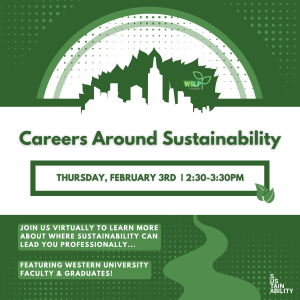 Sustainable Fashion Forum - Thurs. Nov. 25 @ 3:00-4:00pm
Join the virtual discussion with industry panelists to learn about how Western students and alumni are building entrepreneurial businesses based on sustainable fashion. Viewers in the live event will be entered to win 1 of 2 sustainability prize packs with reusable cutlery, tote bag, travel mug and magnet clip. 
View the webinar recording here!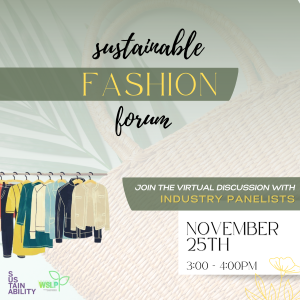 Sustainability @ Western Panel - Wed. Sept. 22 @ 3:30-4:30pm
Tune in to hear from our three panelists about Western's sustainability initiatives in campus operations, academics, and student-led projects. Viewers in the live event will be entered to win 1 of 2 $50 Book Store gift cards!
View the webinar recording here!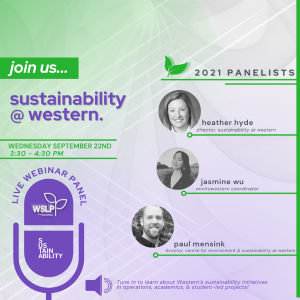 Benefits for Students
This program has been designed collaboratively by Western Sustainability and a team of students! We believe student leadership is key for sustainability and have built this program to benefit students and build leadership skills in a number of ways:
Gain recognition on Western's Co-Curricular Record by attending a minimum of four of our monthly events
Network with professionals in various sustainability sectors
Learn about a range of sustainability themes
Stay updated on volunteer and leadership opportunities
Connect with students from various academic backgrounds to discuss interdisciplinary solutions to sustainability challenges
The program is open to all students (undergraduate, graduate, main campus, affiliates). 
If you would like to get involved, email us at sustainability@uwo.ca with your 1) Name 2) Email 3) Academic program 4) Year of Study to sign up to our members list!
Follow us on Instagram and Twitter to stay updated on our events, contests, volunteer and leadership opportunities.