Western Sustainable Leaders Program (WSLP)
Western Sustainable Leaders Program (WSLP)

The Western Sustainable Leaders Program (WSLP) is a way for students to engage with sustainability throughout the year with a network of like-minded students from across campus interested in sustainability. Each month features a different theme with educational and experiential opportunities to get involved!
The WSLP engages guest speakers from across campus and the broader community, providing opportunities for students to network with professionals and peers involved with a wide range of sustainability initiatives on campus and in the community. This program also supports students in earning the WWF-Canada Living Planet Leader certification by offering sustainable living tips, volunteering, and student leadership positions. Students have the opportunity of earning the Sustainability Leader designation for their Western Co-Curricular Record every year.
WSLP Events
Each year the WSLP delivers unique events and activities across a range of sustainability themes, often in collaboration with other clubs and groups on campus. A list of previous events is available to view below, but more information about past and upcoming events is available on our OWL site! All students interested in joining the WSLP can do so via this link or by scanning the QR code below. Joining the WSLP means you will be added to the OWL site and receive WSLP updates from our email list.  
Benefits for Students
This program has been designed collaboratively by Western Sustainability and a team of students! We believe student leadership is key for sustainability and have built this program to benefit students and build leadership skills in a number of ways: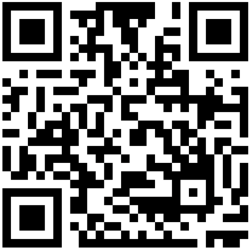 Gain recognition on Western's Co-Curricular Record by attending a minimum of four of our monthly events. Students can earn this designation every year!
Network with professionals in various sustainability sectors
Learn about a range of sustainability themes
Stay updated on volunteer and leadership opportunities
Connect with students from various academic backgrounds to discuss interdisciplinary solutions to sustainability challenges
The program is open to all students (undergraduate, graduate, main campus, affiliates). 
If you would like to get involved, click this link or scan the QR code to fill out our sign-up form!
Follow us on Instagram and Twitter to stay updated on our events, contests, volunteer and leadership opportunities.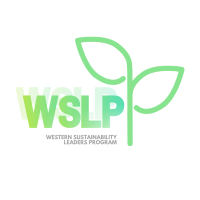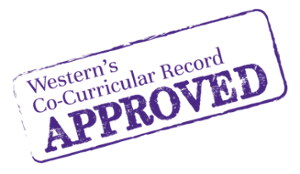 Environmentally Significant Areas (ESA) Day BioBlitz (September): Medway Valley Heritage Forest
Bike to Campus Day Lunchtime Tour (September): Green Campus Tour
WSLP x Ivey Social Impact Club Post-Hoco Clean-up (September): Campus
WSLP x FOGs Native Seed Saving (October): Fram Lands, Campus Meadow
WSLP x SSC Research in Environmental Science and Biology Event (November): Natural Sciences Centre
Safeguarding Biodiversity with Nature Canada Letter Writing Campaign (November): Weldon Library
Wellness Walk (February): Along the river on campus
WaterAid Sustainability Conference - WSLP Workshop (March): Weldon Community Room
WSLP x Student Energy Spring Cleaning Event (March): Campus