Awards & Recognition
Western aspires to be a leading educational institution in sustainability and stewardship by embedding sustainable practices into its curriculum, operations, and research. This page is dedicated to displaying some of the areas in which Western has been recognized for its sustainability excellence.
2020 Skål Sustainable Tourism Award in the

Educational Programmes and Media category
In the 19th edition of the Skål International Tourism Awards, Western University was recognized for its educational programmes and media in the area of sustainable tourism, as a result of Hospitality Services' project submission about aspiring to be a leading educational institution in sustainability and stewardship. View Western's award here, and learn more on the Skål International website.
The National Association of College & University Food Services 2019 Sustainability Award
Hospitality Services received a Gold Award (in Procurement Practices) in the National Association of College & University Food Services (NACUFS) 2019 Sustainability Awards for their on-campus honeybee program. There are currently 1 million honeybees on campus in 8 honeybee hives. In 2018, the harvested honey from the hives is used by Great Hall Catering in recipes, served with tea and coffee, and bottled for sale.
Green Building Excellence Award for Amit Chakma Engineering Building (2019)
Recognized for "making a difference" in Canada's green building industry, the Amit Chakma Engineering Building was presented the Green Building Excellence Award for New Construction by the Canada Green Building Council at the 2019 Leadership and Green Building Excellence Awards.
Bee City Canada Designation (2018)

In 2018, Western became the first university in Canada to become a Bee City Campus. The designation recognizes communities that establish healthy pollinator habitats and communicate their importance with the community.
Green Award for the Amit Chakma Engineering Building (2018)
The Amit Chakma Engineering Building won a provincial award of excellence for new green buildings. This building has achieved LEED Platinum certification, making it the 13th LEED certified building on campus. Sustainable features within this building include: a rainwater collection/harvesting system, electric vehicle charging ports, and solar panels. The award was presented at an Ontario Green Building Excellence and Leadership ceremony in October of 2018.  
Rez Powers Down - 2015 CAUBO Quality and Productivity Award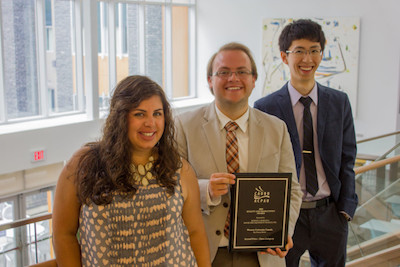 Click here for more information. This is the second win for the program this month. Earlier in June, Rez Powers Down won Program of the Year at the Ontario Association of College and University Housing Officers annual conference, hosted at York University in Toronto. Western was awarded a 2015 Quality and Productivity Award, presented by the Canadian Association of University Business Officers, for the university's Rez Powers Down program. The award comes with a $1,500 prize, which will be used to help fund sustainability programs in residence this year.
National Association of College and University Food Services - Silver Waste Management Award 2014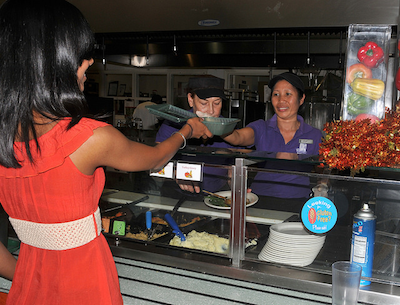 Click here for more information. Western's Hospitality Services group was recognized with a Silver in the Waste Management category of the 2014 Sustainability Awards, presented by the National Association of College and University Food Services. The awards annually honour outstanding leadership in environmental sustainability, specifically as it relates to campus dining operations. Western was the only Canadian university honoured, and was recognized for Residence Dining's XChange4Change (XC4C) program. XC4C is a reusable takeout container program that allows students to purchase their food in reusable containers, eliminating waste from paper plates.
Sustainability Efforts Earn Nod from The Princeton Review
For the second year in a row, Western is one of only two Canadian universities to be recognized within The Princeton Review's Guide to Green Colleges. More than 2000 North American schools, including over 100 Canadian schools, responded to The Princeton Review Survey and were rated on their ability to demonstrate notable commitments to sustainability in their academic offerings, campus infrastructure, activities and career preparation.
Recycling Council of Ontario Silver Waste Minimization Award 2013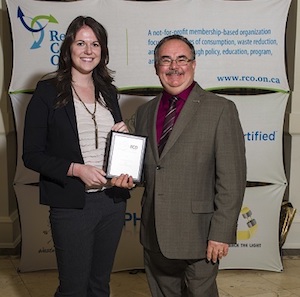 This award was granted to Western for demonstrated environmental commitment to waste reduction and diversion. Several recent advancements in the University's waste collection processes can be directly linked to the University's success, and for its advancement from a Bronze Award in previous years to a Silver award in 2013. For example, in the Spring of 2013, over 160 new outdoor recycling receptacles were strategically placed around campus in high traffic areas and labeled with images to help users properly sort and dispose of their waste. 
Recycling Council of Ontario Bronze Waste Minimization Award 2012
This award was granted to Western for demonstrated environmental commitment to waste reduction and diversion. Western currently achieves 60% waste diversion on campus. This means that 60% of all the waste that is generated is recovered through established recycling and composting programs.  Western is continuously advancing waste diversion through improved recovery programs, clear waste receptacle signage, and educational awareness campaigns. 
London Chamber of Commerce Business Achievement Award: Environmental Leadership 2012
The London Business Achievement Awards acknowledge and celebrate local achievements. Western was nominated for this award by its recycling service provider, BFI, for its commitment to green buildings and operations; energy reductions; transportation enhancements; and waste diversion. 
Ontario Business Achievement Awards (OBAA) – Institute of Chartered Accountants (ICAO) Award for Corporate Governance 2012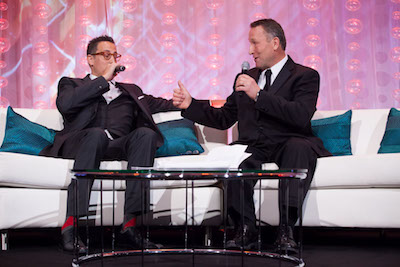 Western became eligible to apply for an OBAA after winning the London Chamber of Commerce Business Achievement Award. Western applied and won the ICAO Award for Corporate Governance, a recognition of Western's high standard as an exemplary corporate citizen, and its commitment in areas such as environmental stewardship. 
Eco-Enterprise Innovation Award 2011 Oracle Award of Excellence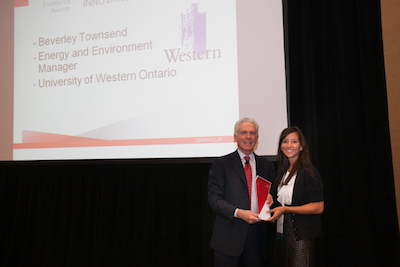 Western University was the recipient of the 2011 "Eco-Enterprise Innovation" award at the Oracle OpenWorld conference in San Francisco. This award was presented to Western for taking an environmental lead to improve business efficiencies using green business practices. The university deployed an Oracle-based solution to reduce costs and redundancy, improve efficiency and service, and simplify and optimize processes.
Specifically, we:
Minimized paper-based processes by implementing a self-service portal, enabling students to easily access grades, course calendars, and tax forms, as well as register for courses online
Enabled prospective students to access online admission offers and also accept admission with just the click of a button
Improved the university's ability to ensure quick and optimal service to its students with the deployment of the online portal, accessible 24 hours a day
Enabled staff to view earning statements, provide emergency contact details, and access necessary tax forms online
Implemented Oracle Solaris Containers to reduce the number of physical servers, ultimately reducing data center costs and power consumption
Enabled better resource management as staff can now maintain fewer machines, reducing overall operational costs for the IT department
Urban League of London – Green Brick Award 2010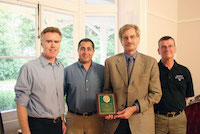 The Green Brick Award recognizes development projects that encourage community participation during design and construction phases. Western received the Green Brick Award for its incorporation of green features in the Claudette MacKay Lassonde Pavilion, as well as its inclusion of engineering students during the preliminary design process of this building.