Campus as a Living Lab
Universities are unique hubs of learning both in the classroom and in the community. We have a wealth of academic expertise, access to innovative interdisciplinary collaborations, and a broad range of campus operations and landscapes. This special set of characteristics provides exceptional opportunities to research, test and implement innovations and initiatives that provide learning opportunities for students and contribute to sustainability goals. Living Lab projects create cohesion between academic and operational aspects of a university, leading to a more integrated campus environment.
Western's Campus as a Living Lab (CLL) program brings together collaborations of faculty, staff, students and community partners across a range of scales. CLL supports biodiversity conservation, visual arts, land restoration and improved energy systems, among other research and project areas.
Our campus is situated within the Carolinian Life Zone, and ecological region extending from Windsor to Toronto which has the greatest biodiversity in all of Canada. The Deshkan Ziibing (Thames River) flows through our grounds and is home to numerous species, including species at risk like the spiny softshell turtle. In addition, Western borders the Medway Valley Heritage Forest environmentally significant area (ESA). We have many environmentally significant features at Western to learn from in conjunction with classroom learning.
CLL supports our community in learning from the land that we are situated upon and the diverse perspectives that make up our community.
Current Living Lab Projects
Check out some of the current CLL projects happening at Western!
Barn Swallow Breeding and Nesting Structure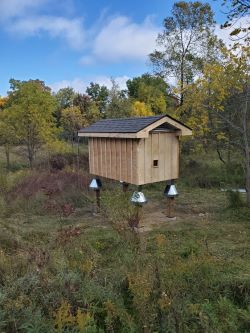 The Barn Swallow Structure was constructed Fall 2022 with the leadership of Biology PhD candidate, Brendon Samuels, and support from WWF-Canada, University Students' Council, the Society of Graduate Students, the Advanced Facility for Avian Research, and Bird Friendly London/Nature London.
Barn Swallows are a bird Species at Risk in Ontario whose numbers have declined in recent years, partly due to habitat loss. These birds rely on specific types of structures (like barns) to host their nests. Barn Swallows occur in high abundance at Western because of the habitat available here including wetlands, grasslands, old growth forest and the Medway Valley Heritage Forest ESA. Each year many Barn Swallows return to campus and construct nests on buildings adjacent to these natural features; which can put the birds in conflict with high-pedestrian traffic and maintenance work, reducing their breeding success.
The Barn Swallow Structure provides an alternate location for Barn Swallows to breed on campus, in a low-traffic location with natural features they need to survive (e.g. insects, mud). The structure was built in a naturalized part of campus to increase breeding success for the birds; if you do come across the structure, please do not approach too closely to respect the birds' space. In future this project will monitor Barn Swallows' usage of the structure, breeding success, and effectiveness of the construction features of this structure to help inform best practices on effective design standards for Barn Swallow Breeding Structures.
Biodiversity Inventory at Western
The Biodiversity Inventory at Western is led by an organizing committee of volunteers in the Faculty of Science. The project seeks to study the biodiversity that exists today on campus grounds at Western and its affiliate university colleges (Brescia, Huron, King's). All members of the campus community can participate by contributing photos and other observations to community science using iNaturalist. Learn more about the project and how you can get involved on the Biodiversity Inventory website.
Community Based Research in Indigenous Studies
This project is part of an Indigenous Studies/Geography course "IS4023/GEO3001F; Community-Based Research in Indigenous Studies," and is supported by a 2021 Indigenous Learning Fund grant from Western's Office of Indigenous Initiatives. The project will engage is passive (observational) and active (land modification) types of academic engagement. Observational work will focus on mapping and monitoring the state and seasonable variations of the site including vegetation, soil types, insect populations, animal, reptile, and bird identification, and acoustics (soundscapes). Active land modification will be small-scale and iterative, varying according to what is learned from mapping and monitoring. The overarching aim will be to re-establish native vegetation with an emphasis on pollinator-friendly species, improve habitat for species at risk, and communicate the nature and purpose of these activities, and their value, to the community. Through such learning and land-healing activities it is hoped that students will develop connections and responsibility to land.
How to Get Involved
Living Lab projects can take place anywhere within Western's main campus property boundary. Projects can be land-based or interacting with the built environment and operations of the university. The green areas in the map below represent Western's main campus property.
To get started, send us an email at sustainability@uwo.ca with your CLL idea! (It's that simple). We will then work together to define the collaboration and the roles of individuals or groups involved. We look forward to hearing from you!