Residence

Living in residence is one of the most memorable and unique experiences for many. It is a time when students are living on their own for the first time. Residence becomes like a second home to students, so it is important to support environmental well-being by taking care of this new space. There are many ways students can incorporate sustainablility into their daily lives that will have a positive impact environmentally and personally.
Living Sustainably in Residence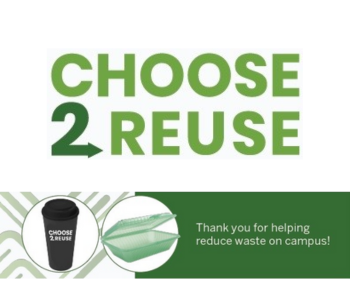 The Choose2Reuse program exists in residence dining halls to support sustainable take-out dining.
How to Participate:
Ask for your food in a C2R container when ordering in dining halls
Pay a $5 program fee (one-time and non-refundable Return your dirty container and collect your C2R card
Next time, order your food in a C2R container and present your C2R card at the cash

The Meatless Monday program launched in the residence dining halls for the first time last year. This program helps individuals make small, simple changes that can have a big impact on their health and the planet.
Western has pledged to make 40 percent of dining hall menus plant-based by the start of 2024. This goal works to support sustainability as a top priority on-campus as highlighted in the strategic plan, Towards Western at 150.

Waste Reduction Week takes place every year in October through Waste Reduction Week Canada. The week focuses on promoting discussion and action around waste. Students can take part by visiting pop-up booths across residences and take part in a waste-diversion challenge. The residence who has the biggest waste diversion rate (amount of waste that didn't go into the landfill) wins a grand prize!

Western Housing's Wellness and Wellbeing Committee organizes the Wellness Carnivals in across residences on campus. This series of events highlight the importance of all the pillars of wellness, including environmental wellness. The Office of Sustainability enjoys interacting with students and sharing ways people can improve their sustainability while living in residence.
There are a few things to keep in mind when moving out of residence:
Clear recycling bags are to be used for recyclables only. Black bags cannot be used for recycling as the contents of the bag are assumed to be landfill. Students are encouraged to visit their residence's front desk if more bags are needed.
Recycling must be separated and taken down to the Recycling Rooms, located in each residence. The Waste Diversion Guide for Residences includes a location list for all the residences' Recycling Rooms.
Bulky items are not permitted in the garbage chutes. Large items, like cardboard, can be disposed of it in the residence Recycling Rooms.
Consider donating items before tossing them away. The following checklists detail what items are considered acceptable for donation:
Waste Diversion in Residence
At Western, there are four waste streams: Containers, Paper, Organics, and Landfill. It is important to take responsibility when sorting on campus. There are helpful resources available that support environmental wellness, and encourage respectful and mindful action to improve waste diversion on campus. Visit the Sorting at Western webpage to learn more.
Resources
In collaboration with EnviroUSC, the Waste Diversion Guide for Residences helps make waste sorting a bit easier. This guide also include where to find each residences' Recycling Room.