Renewables
Solar Power Generation
Through its investments into LEED certified buildings, Western also uses solar power generation. The Amit Chakma Engineering Building is a great example: its design is a living lab for students to learn about sustainable energy systems, as the building boasts an impressive solar array which offsets much of the building's energy needs. 
As Western encourages new buildings to pursue green building certifications, more solar power projects are sure to join our sustainability efforts.
Solar Lamps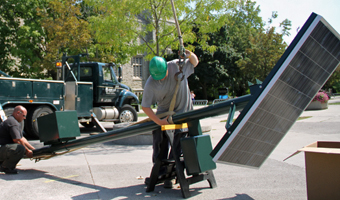 The University Student Council (USC), in partnership with Facilities Management, installed two solar powered LED lamps on campus in the summer of 2012. The project cost $16,000 and is an initiative generated as a result of USC's 2010 Student Legacy Fund Challenge.
Quick facts:
 The solar panels are mounted onto two poles along Oxford Drive in front of the University Community Centre
Energy captured from the solar panels is stored in batteries that directly power the attached LED lamps
The lights work on a sensory system, and only turn on when it is dark outside - they store enough energy to stay on until morning
These solar panels have a life expectancy of 20 years, and the LED lights are expected to last up to 50,000 hours