Active Transportation Advocates
Advocating Active Transportation
Riding a bicycle to campus as a primary mode of transporation is quickly becoming a popular option. Whether it be to save a few bucks, to reduce their carbon footprint, or for physical and mental benefit, everyone that hops in the saddle each day to get to Western has their reason.
In writing a story for Western News, we got a lot of volunteers to speak on behalf of the cycling community, but couldn't include them all. As a result we have captured a snippet of all those anecdotes as a living journal.
Below is a small sample of the staff, faculty and students who peddle to work/school ... and why they do it.
Students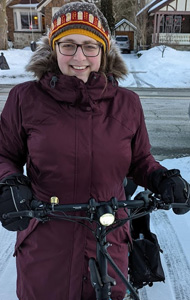 Why do you cycle? I just enjoy it. I have a comfortable, upright bike that's low-maintenance and easy to ride. I can go a little faster than walking, but I feel a stronger connection to the world around me than when I'm in a car or on a bus. I think reducing personal car use is important from a sustainability perspective, but making that change on a meaningful scale has to be initiated and supported by policy and infrastructure, so it's not the main factor in my decision to bike.
What cycling amenities do you use when arriving on campus? The bike paths on campus are great, and the winter maintenance has been fantastic. I go across the bridge and take the bike path up the hill, then the bike path across from the student centre over to the engineering buildings. I also really appreciate the bike shelter- it's lovely to have that added layer of protection from theft and weather.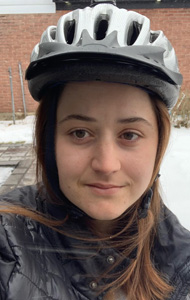 Why do you cycle? I love cycling. I cycle because it's a fun way to get activity and there's lots of changes of scenery, so it doesn't feel like you're exercising. Also, because it's eco-friendly. Additionally, the cost of gas is through the roof so I am trying to avoid driving now more than ever.
What is the biggest challenge to winter riding? The biggest challenge with winter biking is not wiping out due to ice and snow. The cold is manageable if you dress appropriately, and the physical activity of biking warms you up.
Staff / Faculty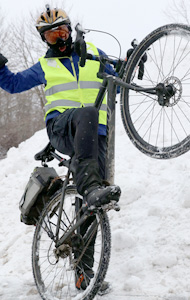 What is that best part of winter cycling? The best part of winter riding would be the excitement of it all. Conquering the ice with my studded tires, blasting thru the powdery deep snow. Commuting by bike is an adventure every day, somedays are exciting and full of surprises, and some days are calm and peaceful. It is great exercise and I don't get stuck in traffic and I don't have to pay expensive parking fees.
How long have you been riding to work? I started in 2007; I would ride on nice days and enjoyed not having to deal with the stresses of sitting in traffic. I decided to continue to commute by bike after seeing how much money I saved. I think in the first years I figured it was a $2000 per year in savings vs driving to work.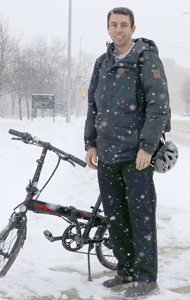 What do you enjoy most about commuting to work by bike? I enjoy being able to observe and explore an area as I pass through it. If something interesting pops up I am able to change routes or hop off the bike and explore. You have the ability to set your pace and veer off the beaten path.
What was your first winter like? My array of hats, scarves, gloves, and balaclavas has grown significantly over the past two winters. During a particularly bad storm in the Winter of 2021 I more or less was forced to walk the majority of my route as the roads were so completely covered in snow. Being subjected to the elements during a cold winter ride gives you good perspective. It makes a rain shower in April a lot more appealing.