Happening now in your community!

The London & Area Environmental Town Hall took place May 18 with local MP's Kate Young, Lindsay Mathyssen, Peter Fragiskatos, and Karen Vecchio. Watch the recording to learn about local MP's commitments and actions for sustainability. 
---
Western students honoured for sustainability initiatives
The Western Green Awards recognize innovative work by members of the campus community to reduce the environmental impact of the university and of society as a whole. The winners of Western's Ideas for Sustainability and the Environment (WISE) competition were also announced, recognizing students for high-impact ideas for reducing or eliminating today's most pressing environmental concerns.
---
Race and Nature in the City: Engaging Youth of Colour in Nature-based Activities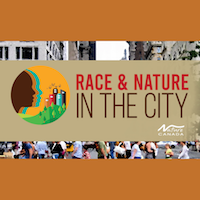 This webinar, facilitated by the Sustainability Network and Nature Canada, took place May 26 with experts Jacqueline Scott and Ambika Tenneti who discuss the intersection of race and the outdoors, and the importance of representation in environmental groups, nature activities and nature-related media. Watch the webinar recording here.
Current Initiatives