News
Western has joined more than a dozen research-intensive Canadian universities to battle climate change through sustainable investing - part of the university's ongoing efforts to reduce its carbon footprint. 
---
Innovation and Impact Symposium 2020
The symposium and award ceremony for the WISE Competition and Western Green Awards has been postponed.
---
Sustainability at Western, in support of ReForest London's Million Tree Challenge, will be giving away free seedlings to faculty and staff. The event is held on September 25, 2019, in Biological & Geological Sciences Building west entrance (main floor) between 9:30 - 11:30 am and Support Services Building, room 4205 between 1:30 - 3:30 pm.
---
Monumental Campus Clean-up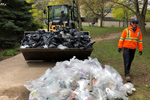 With the help of nearly 400 members of the campus community, this year's Campus Clean-up was a record-breaker. Registration for the event was up by more than 150 over any previous year. Altogether, they scooped up 245 cubic feet of waste and recycling. Thanks for helping us keep campus beautiful!
Current Initiatives