News
Innovation and Impact Symposium 2020
Presented by President, Alan Shepard and VP Operations and Finance, Lynn Logan, the symposium recognizes the top sustainability awards at Western. At this prestigious event, we honour the recipients of the long-standing Western Green Award (WGA) and the Western Ideas for Sustainability and the Environment (WISE) Competition. When: March 30, 2020 1pm-2pm. Where: International Graduate Affairs Building (IGAB) Atrium. All are welcome.
---
Sustainability at Western, in support of ReForest London's Million Tree Challenge, will be giving away free seedlings to faculty and staff. The event is held on September 25, 2019, in Biological & Geological Sciences Building west entrance (main floor) between 9:30 - 11:30 am and Support Services Building, room 4205 between 1:30 - 3:30 pm.
---
Monumental Campus Clean-up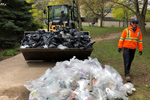 With the help of nearly 400 members of the campus community, this year's Campus Clean-up was a record-breaker. Registration for the event was up by more than 150 over any previous year. Altogether, they scooped up 245 cubic feet of waste and recycling. Thanks for helping us keep campus beautiful!
---
Starting this summer, Campus Community Police Service (CCPS) and Facilities Management will begin moving and consolidating bike racks as some existing, low-density bike parking areas scattered across campus can pose an increase in risk. <Western News Report>
---
For the last eight summers, Facilities Management staff has confronted rising energy bills and mounting demand pressures by working with the university community to reduce electricity consumption during June, July and August. That challenge dawns again this year. <Western News Report>
Current Initiatives