Cycling

Did you know personal vehicles are the #1 source of emissions in London, Ontario? Cycling is a great way for individuals and communities to reduce emissions and choose a healthy and sustainable mode of transportation. 
Cycling is an important part of the Western community! Coming in from along Deshkan Ziibing / Thames River, the Thames Valley Parkway (TVP) creates a beautiful gateway onto Western's campus for cyclists and active transportation users. The TVP extends both to the north and south of campus through parks with scenic views of the river.
Western's Open Space Strategy describes the university's goals for sustainable transportation on campus. The strategy references several "Big Moves" that serve to turn the Vision and Principles into physical reality on campus, including the move to complete the bicycle network and establish a comprehensive network of safe bike routes. 
Campus Cycling Resources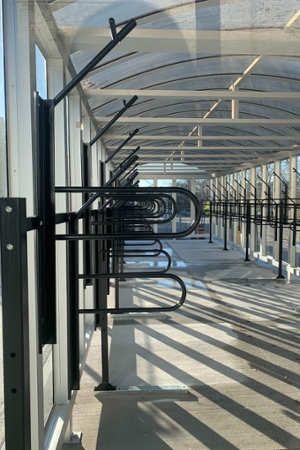 Parking Services provides secured bike areas across campus, such as the Bike Shelter and Bike Lockers. These secure parking options can help prevent bike theft and enable more people in the campus community to choose cycling as their primary mode of transportation. Although access is free, permits are required to ensure adequate space.
View the Bike Parking Map on Parking Services website for more details.
Western Special Constable Service has a helpful list of tips and resources for Bike Protection on their website, and also hold an annual Bike Sale in the spring - make sure to follow their social media and news stories for information about each year's bike sale!
London and Community Cycling Resources
The City of London provides various cycling resources on their website.
In the community, London Cycle Link's Squeaky Wheel Co-op is a volunteer-supported, self-serve bike repair shop that is welcoming and accessible to everyone. Visit their website for more information about how the repair shop works, and check their page on used bikes for affordable, ready-to-ride bikes. 
Western Active Transportation Society (WATS) is a multidisciplinary group of Western faculty, staff and students who are passionate about researching and promoting safe cycling and walking as a means of transportation. Cycling and walking is fun, and research clearly shows that it is good for body, brain, society and environment.