Western Community Garden

The Western Community Garden is a collaborative initiative amongst Western students, staff and faculty. Key collaborators on the garden include Landscape Services and Western Sustainability within Facilities Management  as well as Society of Graduate Students (SOGS) and EnviroUSC. Please email sustainability@uwo.ca with any questions about the garden.
Located beside Western Greenhouses, behind Middlesex College.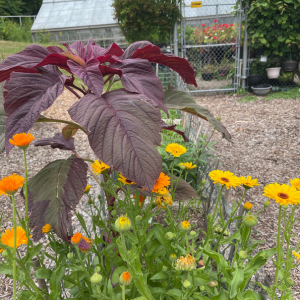 Currently the garden contains 38 raised bed concrete planters of varying sizes which are primarily used to grow food crops. The perimeter of the garden has an additional 21 planters which contain native plants to support biodiversity and pollination of the food crops. The centrepiece of the garden features an in-ground pollinator garden of native plants, tended by faculty and students as part of a field course and project through the Campus as a Living Lab program.
The Community Garden is a unique opportunity for collaboration amongst students, staff and faculty across campus. Plot allotments for the 2023 growing season have been filled by campus groups including SOGS, EnviroUSC, Indigenous Student Centre, as well as individual campus community members. We are full for the 2023 growing season, and each year open plots are allocated through a random draw. Follow @WesternUSustain to stay updated!
All campus members are encouraged to enjoy the garden area. The Community Garden is located nearby both the FOGs Pollinator Garden and St. Mary's Cement Rock Garden. Visit the gardens on your own time, or book a Green Campus Tour to learn more about the spaces.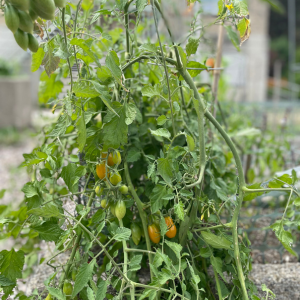 It was with the leadership and motivation of students that the Western Community Garden was initiated.
In Spring 2021, with the help of Landscape Services and the Indigenous Student Centre, the Community Garden came to life. Nadine Castonguay, Enviro USC Garden Executive 2020-21 (BSC'21, Food and Nutrition), led the planting, maintenance and harvesting of the garden in its first year with a vision to expand. "My goal all along was for this to be a community garden where people could grow and source their own food locally. It also brings people together and forms a community, which is really important."