Community Garden
The community garden on campus is run by EnviroWestern, a USC student service that seeks to promote environmental sustainability at Western across a variety of initiatives like gardening, green campus tours, residence outreach, waste diversion, and lots more! Learn more about upcoming events and initiatives on Instagram @envirowestern.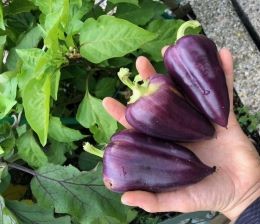 With the help of Landscape Services and the Indigenous Student Centre, the EnviroWestern community garden came to life in the spring of 2021 with the leadership of Nadine Castonguay, EnviroWestern Garden Executive (BSC'21, Food and Nutrition). 
"My goal all along was for this to be a community garden where people could grow and source their own food locally. It also brings people together and forms a community, which is really important." - Nadine 
Nadine started seedlings in the Western greenhouses (located directly next to the community garden), and moved the seedlings into the garden plots in May. 
Although the community garden is in its infancy, other Western community members are also now using the space. A faculty member is growing native plants for use in a field course, and other students help care for the garden and share in the harvest. Some fresh produce has also been donated to the London Food Bank, addressing food security in the broader community.