2018 Winners
2018 marks the 4th year of Western's Ideas for Sustainability and the Environment (WISE) Competition. The competition was established in 2014 with an aim of fostering innovative and high-impact ideas that reduce or eliminate today's most pressing environmental concerns. The competition allows Western students to showcase their proposals and initiatives on the topic of sustainability and be officially recognized for their winning ideas.
Submissions to the WISE competition fall into one of two categories; undergraduate or graduate. This year the judges had the opportunity to review 36 submissions to the competition, 23 of those from undergraduate students and 13 from graduate students.
Within each category a grand prize of $1,500 is awarded to the winning submission.
The winning submissions for the undergraduate and graduate category 2018 are included below.
WINNERS
2018 Winner, Undergraduate
Annabelle Laurin – Don't Throw in the Towel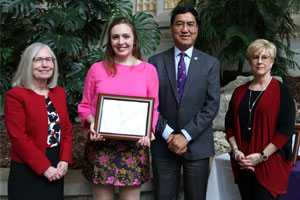 Environmental Science student Annabelle Laurin believes that innovative ideas should be simple, concrete, and practical. Using this mindset, Laurin proposed a solution to the paper towel waste generated in public bathrooms on campus. Laurin created a Western-specific plan that begins on a small, local scale with the ability to expand to eventually eliminate all compostable materials from landfills. The solution proposed by Laurin was to include a separate bin in washrooms that is "paper towel only", which would allow for these compostable materials to be diverted from landfills and instead be directed to an organic material facility such as Orgaworld here in London, ON. Laurin highlights the impact that a simple change such as the use of a different colour bag can have on student and staff behaviors. By using a clear bag to line the "paper towel only" bin and a black bag to line the landfill bin, students and staff will be able to more easily separate compostable and non-compostable materials in bathrooms. Approximately 17% of the waste generated at Western University is from paper towels. Laurin's proposal seeks to divert this waste from landfills which would greatly assist Western in its goal of becoming a Zero Waste Campus by 2022.
2018 Winner, Graduate
Dennis He and Michelle Clarke – Greenyards
Masters of Environment and Sustainability students Dennis He and Michelle Clarke presented GreenYards, a model for urban cropshares. He and Clarke propose that London homeowners be encouraged to donate spaces in their yards to be utilized as garden plots for fruits and vegetables. The crops produced would then be transported using bicycles and trailers to local farmers markets and businesses to be sold to or consumed by the community. Approximately 10% of the yield from the garden plot would be kept by the homeowner for their own consumption. He and Clarke hope to keep produce within a five-kilometer radius of downtown London to ensure that produce is locally sourced and to allow for a reasonable distance for transportation on bikes to minimize the footprint of the project. GreenYards also eliminates the need to clear land for new gardens by repurposing an unused yard into productive land. GreenYards aims to make an impact on a local scale by cultivating a partnership between local businesses and encouraging community collaboration.