Awards & Recognition
Western aspires to be a leading educational institution in sustainability and stewardship by embedding sustainable practices into its curriculum, operations, and research. This page is dedicated to demonstrating the areas in which Western has been recognized for its excellence.
Recycling Council of Ontario Silver Waste Minimization Award 2013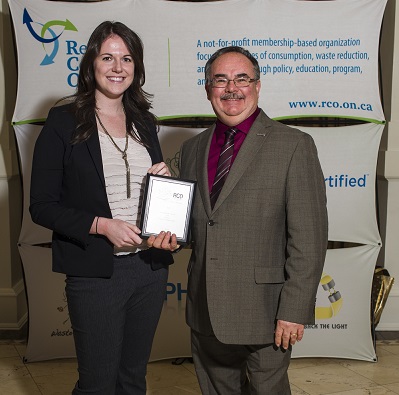 This award was granted to Western for demonstrated environmental commitment to waste reduction and diversion. Several recent advancements in the University's waste collection processes can be directly linked to the University's success, and for its advancement from a Bronze Award in previous years to a Silver award. For example, in the Spring of 2013, 160 new outdoor recycling receptacles were strategically placed around campus in high traffic areas and labeled with images to help users properly sort and dispose of their waste.
Sustainability Efforts Earn Nod from The Princeton Review

Less than three months after releasing its universitywide sustainability strategy, Creating a Sustainable Western Experience, Western joined The University of British Columbia as the only two Canadian universities profiled in The Princeton Review's Guide to 322 Green Colleges: 2013 Edition. In this fourth edition of the guide, The Princeton Review, in collaboration with the Center for Green Schools at the U.S. Green Building Council, profiled 320 schools in the United States, and two in Canada, that demonstrate notable commitments to sustainability in their academic offerings, campus infrastructure, activities and career preparation. Western was mentioned for its commitment to energy-related retrofits and renovations in the last three years and noted the institution's commitment to embed "sustainability into every facet of daily life." More than 2,300 North American schools, including more than 100 Canadian, responded to The Princeton Review survey. Institutions were required to achieve a score of 83 on a variety of sustainability criteria to be profiled.
Western Takes Top Honour for Global Adjustment Strategy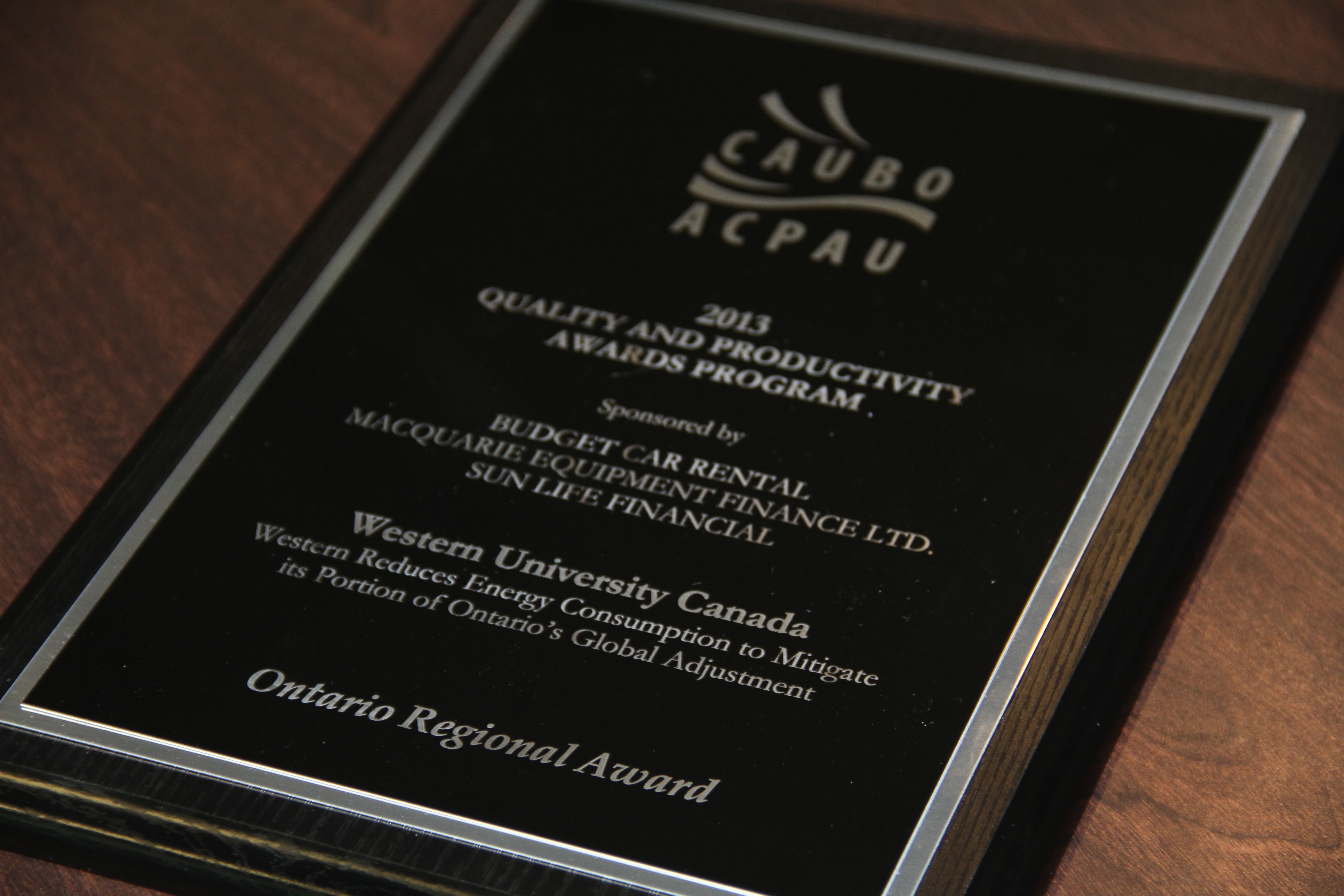 Western was honoured by the Canadian Association of University Business Officers (CAUBO) with the 2013 Quality & Productivity Award-Ontario Regional Prize for the university's energy-reduction plan. The award specifically recognizes Western's efforts to mitigate its portion of Ontario's Global Adjustment (GA) tax, a fee embedded within the university's utility bill. More information can be found here
Recycling Council of Ontario Bronze Waste Minimization Award 2012: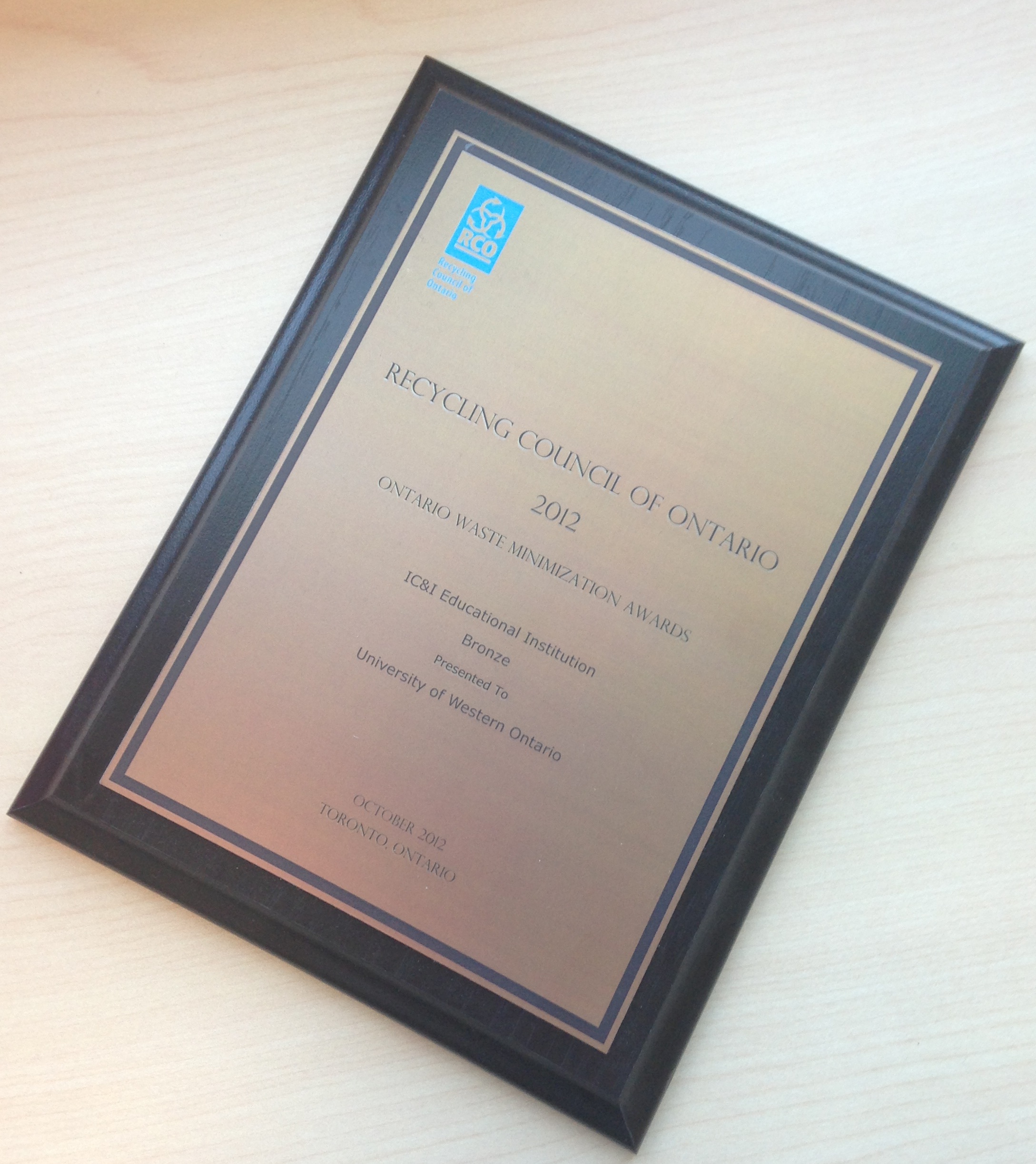 This award was granted to Western for demonstrated environmental commitment to waste reduction and diversion. Western currently achieves 60% waste diversion on campus. This means that 60% of all the waste that is generated is recovered through established recycling and composting programs.  Western is continuously advancing waste diversion through improved recovery programs, clear waste receptacle signage, and educational awareness campaigns.
London Chamber of Commerce Business Achievement Award for Environmental Leadership 2012: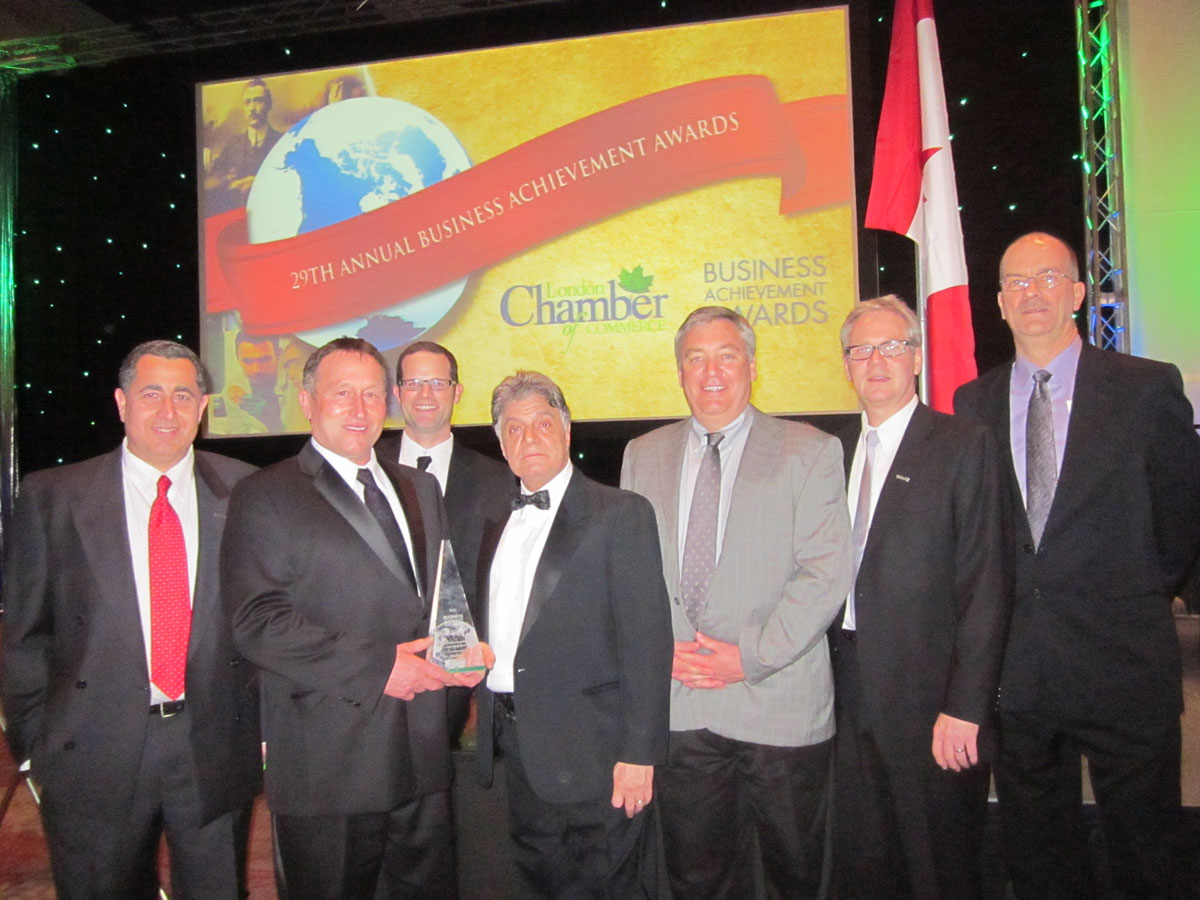 The London Business Achievement Awards acknowledge and celebrate local achievements. Western was nominated for this award by its recycling service provider, BFI, for its commitment to green buildings and operations; energy reductions; transportation enhancements; and waste diversion.
Ontario Business Achievement Awards (OBAA) – Institute of Chartered Accountants (ICAO) Award for Corporate Governance 2012: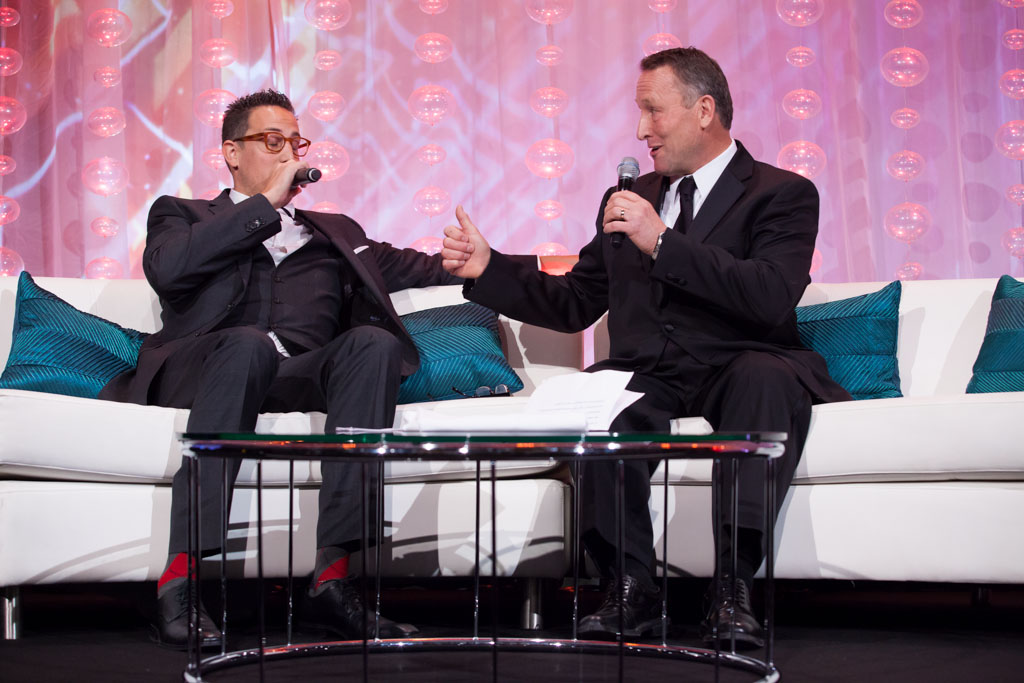 Western became eligible to apply for an OBAA after winning the London Chamber of Commerce Business Achievement Award. Western applied and won the ICAO Award for Corporate Governance, a recognition of Western's high standard as an exemplary corporate citizen, and its commitment in areas such as environmental stewardship.
Recycling Council of Ontario Waste Minimization Award 2011: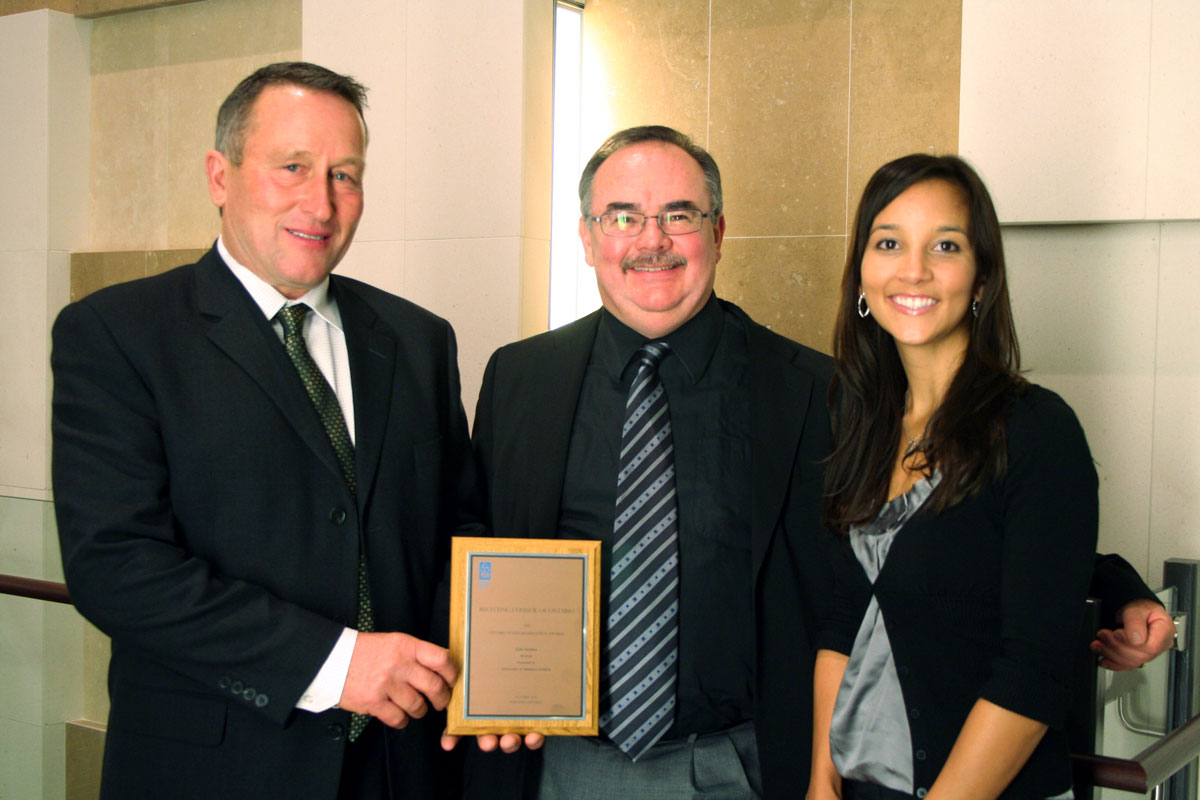 This award was granted to Western for demonstrated environmental commitment to waste reduction and diversion.
Western University was the recipient of the 2011 "Eco-Enterprise Innovation' award at the Oracle OpenWorld conference in San Francisco. This award was presented to Western University for taking an environmental lead to improve business efficiencies using green business practices. The university deployed an Oracle-based solution to reduce costs and redundancy, improve efficiency and service, and simplify and optimize processes.
Specifically, we:
Minimized paper-based processes by implementing a self-service portal, enabling approximately 34,750 students to easily access grades, course calendars, and tax forms, as well as register for courses online
Enabled prospective students to access online admission offers and also accept admission—with just the click of a button
Improved the university's ability to ensure quick and optimal service to its students, anytime, with the deployment of the online portal—accessible 24 hours a day
Enabled staff to view earning statements online, provide emergency contact details, and access necessary tax forms—thus reducing paper usage and improving productivity in the workplace
Deployed Oracle Applications to reduce the carbon footprint as well as diminish thousands of admission letters and earning statements that the university previously printed
Implemented Oracle Solaris Containers to reduce the number of physical servers, ultimately reducing data center costs and power consumption
Enabled better resource management as staff can now maintain fewer machines, reducing overall operational costs for the IT department
Laid the foundation to implement Oracle's Primavera solutions in the future, which will provide project scheduling information, communications, and drawings in one area to improve processes, efficiency, and productivity.
More information can be found here: http://www.oracle.com/us/corporate/customers/customersearch/western-univ-1-peoplesoft-snapshot-1621744.html
Urban League of London – Green Brick Award 2010: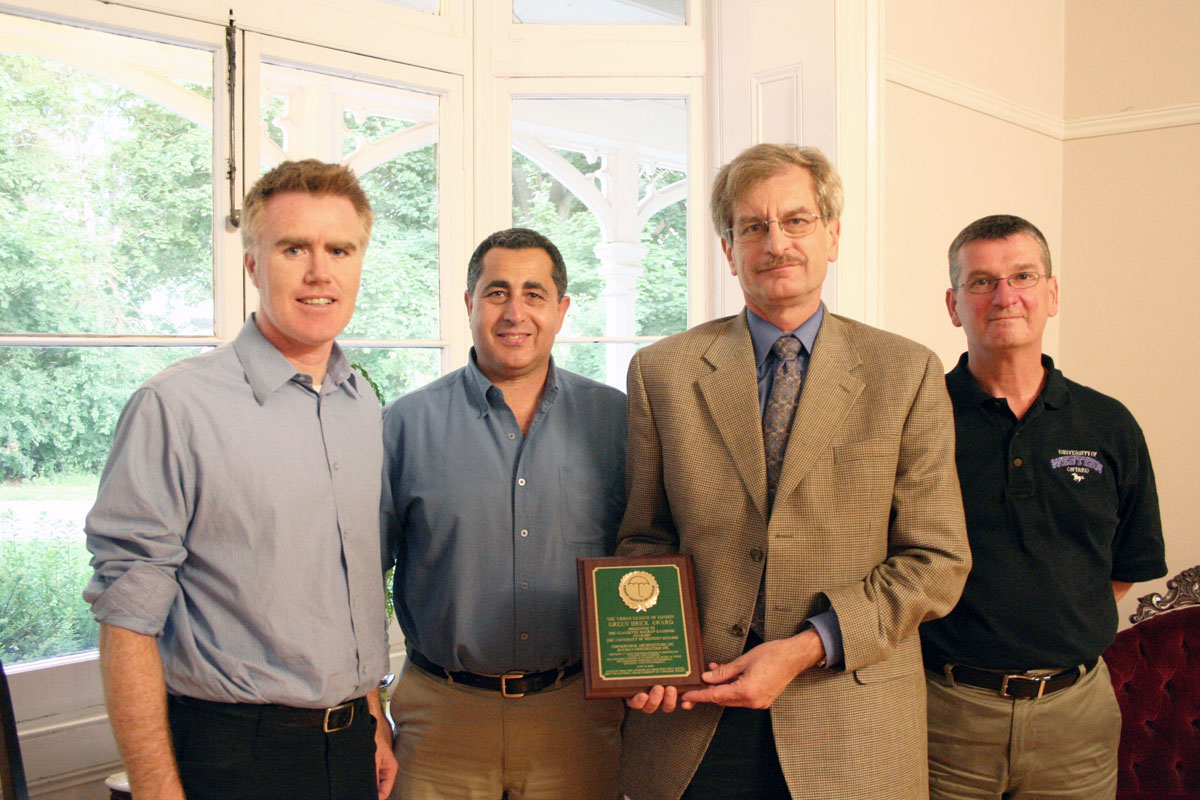 The Green Brick Award recognizes development projects that encourage community participation during design and construction phases. Western received the Green Brick Award for its incorporation of green features in the Claudette MacKay Lassonde Pavilion, as well as its inclusion of engineering students during the preliminary design process of this building.