SDG9 - Industry, Innovation, and Infrastructure
SDG9 - Industry, Innovation, and Infrastructure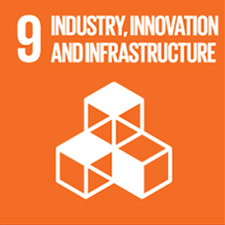 'Industry, Innovation, and Infrastructure', aims to build resilient infrastructure, promote inclusive and sustainable industrialization and foster innovation (United Nations, 2019). In order to achieve this goal, there is a need for economic forces that create employment and income, allow for the efficient use of resources, and facilitate international trade (United Nations, 2019).
Western Initiatives Supporting This Goal
Western set energy conservation goals in 2014 and these goals drive investment and innovation within Western's facilities. These goals are (Western University, 2019):
• Reduce energy use intensity by 9% below 2012 levels.
• Reduce overall energy use by 4% below 2012 levels.
• Reduce water use intensity by 8% below 2012 levels.
Western has implemented many efficiency upgrades on campus that have reduced energy consumption. Some of them include (Western University, 2019):
• Building Automation Systems that allow complete control of building performance including shutting down air-handling units when occupants are not present in the building.
• Renovations and efficiency upgrades of older buildings such as the Physics & Astronomy Building, Westminster Hall, and Althouse College.
• The elimination of all domestic water-cooling use in laboratory equipment, coolers, and research equipment.
• Annual upgrades of the Building Automation Systems including adding meters in all buildings and thousands of control point such as occupancy sensors and thermostats.
• Daylight sensors and auto-dimming features to reduce artificial indoor lighting in some buildings on campus.
• Switch to LED lighting for exterior and interior lighting in some areas.
Western has 13 green buildings on campus. All major renovations and new buildings on campus must result in green buildings. The main building certification that Western subscribes to is the Canadian Green Building Council's Leadership in Energy and Environmental Design (LEED). Due to the high standard in utility efficiency, LEED buildings use significantly less energy than tradition builds. LEED certified buildings on campus include (Western University, 2019):
1. Amit Chakma Engineering Building – LEED Platinum Certified (CaGBC National Award Recipient)
2. Claudette McKay Lassonde Pavilion – LEED Gold Certified
3. The Collider – LEED Silver Certified
4. Delaware Hall – LEED Silver Certified
5. Family Medicine – LEED Silver Certified
6. Ivey Business School – LEED Gold Certified
7. McIntosh Gallery – LEED Silver Certified
8. Music Building – LEED Gold Certified
9. Ontario Hall – LEED Silver Certified
10. Physics and Astronomy – LEED Certified
11. Stevenson-Lawson Buildings – LEED Silver Certified
12. WINDEEE – LEED Silver Certified
13. Western Centre for Public Health & Family Medicine – LEED Silver Certified
Western's Green Office Program is a voluntary and self-reporting tool for offices to gauge their sustainability efforts. This program allows offices to identify areas for improvement and it recognizes progressive offices in sustainability (Western University, 2019). By providing members with scoreboards, it is a resource that encourages members of the Western community to improve their environmental consciousness and practices within their workplace. It aims to engage all members of Western society and to inspire sustainable behaviors. The scoreboard used to mark an office's sustainability success aims to reduce overall consumption, increase publications and outreach on sustainability, purchase more local and sustainable items, and improve waste management efforts (Western University, 2019). Currently, twelve offices across campus have participated in the Green Office Program. Western's Green Labs Program is currently in the planning stages of determining how to increase the sustainability of labs across campus.
The Society of Graduate Students (SOGS) Sustainability Committee consists of graduate students striving to promote sustainability on- and off-campus through various projects. The goal of this committee is to address environmental and social challenges by engaging Western's diverse graduate community (Society of Graduate Students, 2019).

Link to webpage: https://sustainability.uwo.ca/get_involved/join_a_office/index.html
Western has made progress in replacing old, energy-intensive ultra-low freezers with new, energy-efficient Thermo Scientific TSX Freezers (Western University, 2019). These freezers will save energy and reduce Western's carbon emissions. The new freezers use up to 70% less energy than the older ultra-low freezers (Western University, 2019). They also reduce the risks that are associated with older freezers and promote higher levels of research. This initiative distributed 34 new TSX freezers to eligible researchers following a lottery conducted by FM (Western University, 2019). Many of these freezers were given to researchers in Robarts and the Chemistry Building.
WES supports the heating and cooling of the majority of buildings on campus (50+ buildings) (Western University, 2019). WES is a tool that Western uses to measure and monitor its energy usage from space heating and cooling on campus. Data is gathered from the advanced heating, ventilation, and air conditioning (HVAC) system that controls campus air systems (Western University, 2019). Additionally, FM has the ability to shut down or control equipment that is not in use. Depending on the season, FM will turn down the heating or cooling in buildings on evenings and weekends or when people are not in those buildings.
The real-time energy dashboard that is available on the Western website allows the public to monitor the energy use of buildings on campus. Users are able to see the energy usage of each building from electricity, steam, and water. They can also access data for the history of use. For example, from the 2016 Energy Consumption and Greenhouse Gas Emissions Report it shows that Westminster Hall used 986,775 kWh of electricity and 104,920.66 kWh of natural gas.
The Western Green Awards were initiated to raise awareness of sustainability at Western University. These awards acknowledge Western community members who have made positive environmental contributions. The Western Green Awards recognizes any student on campus, whether it is an individual or team with an initiative or activity that garners positive environmental outcomes (Western University, 2019). By providing a financial incentive of $1000, Green Awards allows anyone who is passionate about enhancing sustainability to partake and improve the insight on the importance of sustainability among fellow members of the Western and London community (Western University, 2019).
Western Heads East is a collaboration between Western students, staff, faculty and African partners using probiotic foods to contribute to the health and sustainable development (Western University, 2019). Western Heads East first introduced probiotic yogurt in 2002 and the Tukwamuane Women's Group started the first community kitchen in 2004 (Western University, 2019). Currently, there are more than 200 community production united in Tanzania, Kenya, and Rwanda, which are largely owned and operated by women's groups (Western University, 2019). Research has shown that probiotic yogurt can offer health benefits such as: preventing and treating gastrointestinal infection, increasing birth weight in babies and mother's health, helping to remove toxins such as mercury from the body, strengthening the immune systems and improving general health and nutrition (Western University, 2019).
In 2014, Western's Ideas for Sustainability and the Environment (WISE) competition was established to foster innovative and high-impact ideas that reduce or eliminate today's most pressing environmental concerns. The competition allows Western students to generate ideas around the topic of sustainability. By addressing an idea surrounding the three pillars of sustainability (people, planet, and profit), students or groups of students can win a prize of $1500. These ideas in the future will potentially enhance Western's sustainability practices.
Propel is part of the Campus-Linked Accelerator program and one of Southwestern Ontario's most active startup accelerators. The center provides a co-working space, seed funding, mentorship, and training events and workshops for startups. Propel also has a partnership with LEAP Junction at Fanshawe College.