SDG8 - Decent Work and Economic Growth
SDG8 - Decent Work and Economic Growth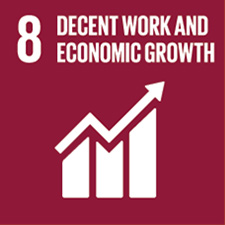 'Decent Work and Economic Growth', seeks to ensure sustainable economic growth through the provision of decent work opportunities under the idea that "all must share in progress" (United Nations, 2019). This includes promoting decent job creation, reducing the proportion of youth not in education, employment, or training, working towards gender pay equality, protecting labour rights, and promoting safe working environments for all workers (United Nations, 2019).
Western Initiatives Supporting This Goal
These committees and commissioners at Western work towards improving the accessibility on campus and creating a supportive environment for those with disabilities (Western University, 2019).
• Western's Ontarians with Disabilities Act Committee (WODAC)
• Barrier-Free Access Committee (BFAC)
• Campus Accessibility Review and Enhancement (CARE) Committee
• President's Standing Committee on Employment Equity (PSCEE)
• Accessibility Commissioner (appointed through the University Students' Council)
• Commissioner for Graduate Students with Disabilities (appointed through the Society of Graduate Students)

https://accessibility.uwo.ca/resources/committees/index.html
Western has been a designated Fair Trade campus since 2015. In 2014, Western began phasing in Fire Roasted Fair Trade Coffee at a number of locations on campus (Western University, 2019). This was done in response to growing demand from Western students for ethically produced coffee. Additionally, there is a student club at Western called Fair Trade Western whose goals on campus and in the London community are to (Western University, 2019):
• Raise awareness about Fair Trade.
• Increase the availability of Fair Trade products on campus.
• Increase the visibility of Fair Trade products where they are sold.

Link to webpage: https://sustainability.uwo.ca/initiatives/fairtrade/index.html
Western currently uses Enviro-Solutions cleaning products, which include a Green Seal certification and Ecologo mark certified by Environment Canada. Green Seal products are safer for the workplace and the natural environment (Western University, 2019).
To support sustainability within and beyond the university campus, Western has established its formal policy on Environment and Sustainability and created the President's Advisory Committee on Environment & Sustainability (PACES). PACES is tasked with fulfilling ambitious but attainable goals related to campus sustainability and to improve awareness of sustainability initiatives and opportunities campus-wide. (Western University, 2019).

To ensure that every member of the Western community will have the chance for a sustainable and healthy working, living and learning environment, PACES also seeks to develop Western's accountability on the current sustainable practices it oversees (Western University, 2019).

Link to webpage: https://sustainability.uwo.ca/about_us/paces.html