SDG7 - Affordable and Clean Energy
SDG7 - Affordable and Clean Energy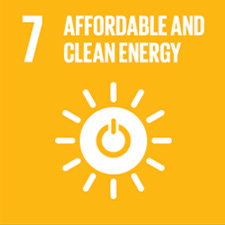 'Affordable and Clean Energy' seeks to provide access to clean and reliable energy, as well as improve rates in energy efficiency. Reliance on fossil fuels such as coal or charcoal exposes workers and users to the pollution that arises from the burning and managing of such fuels. Making the transition to cleaner and more renewable methods of energy production can lead to significant reductions in greenhouse gas emissions, reduce the number of deaths from indoor air pollution, and provide the basis for improving and introducing new infrastructure in sectors such as healthcare and transportation (United Nations, 2019).
Western Initiatives Supporting This Goal
Western has implemented many efficiency upgrades on campus that have reduced energy consumption. Some of them include (Western University, 2019):
• Building Automation Systems that allow the shutdown of air-handling units when occupants are not present in the building.
• Renovations of older buildings such as University College and the Physics and the Astronomy Building.
• The elimination of all domestic water-cooling use in laboratory equipment, coolers, and research equipment.
• Annual upgrades of the Building Automation Systems, including projects to meter and manage steam, water, and electricity at the building level.
• Daylight sensors and auto-dimming features to reduce artificial indoor lighting in some buildings on campus.
• Switch to LED lighting for exterior and interior lighting in some areas.
Western has a number of green buildings on campus that significantly reduce Western's overall energy usage. All major renovations and new buildings on campus must result in green buildings. The main building certification that Western has used to create green buildings on campus is Leadership in Energy and Environmental Design (LEED). LEED-certified buildings on campus include (Western University, 2019):
1. Claudette McKay Lassonde Pavilion – LEED Gold Certified
2. The Collider – LEED Silver Certified
3. Delaware Hall – LEED Silver Certified
4. Family Medicine – LEED Silver Certified
5. Ivey Business School – LEED Gold Certified
6. McIntosh Gallery – LEED Silver Certified
7. Music Building – LEED Gold Certified
8. Ontario Hall – LEED Silver Certified
9. Physics and Astronomy – LEED Certified
10. Stevenson-Lawson Building – LEED Silver Certified
11. Western Centre for Public Health & Family Medicine – LEED Silver Certified
12. WINDEEE – LEED Silver Certified
WES supports the heating and cooling of the majority of buildings on campus (50+ buildings) (Western University, 2019). WES is a tool that Western uses to measure and monitor its energy usage from space heating and cooling on campus. Data is gathered from the advanced heating, ventilation, and air conditioning (HVAC) system that controls campus air systems (Western University, 2019). Additionally, FM has the ability to shut down or control equipment that is not in use. Depending on the season, FM will turn down the heating or cooling in buildings on evenings and weekends or when people are not in those buildings.

The real-time energy dashboard that is available on the Western website allows the public to monitor the energy use of buildings on campus. Users are able to see the energy usage of each building from electricity, steam, and water. They can also access data for the history of use. For example, from the 2016 Energy Consumption and Greenhouse Gas Emissions Report it shows that Westminster Hall used 986,775 kWh of electricity and 104,920.66 kWh of natural gas.