SDG5 - Gender Equality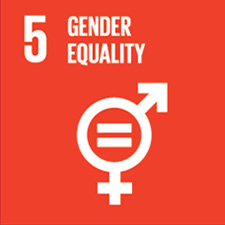 'Gender Equality', aims to end all forms of institutionalized and social discrimination against women globally (United Nations, 2019). While the rates of many harmful practices such as child and forced marriage are declining, a lot more progress could be made to fully ensure equitable and accessible support to women. This includes supporting equal access to political representation for women, providing equal opportunities for leadership, and providing support and access to resources and social protection (United Nations, 2019). Furthering gender equality is a necessary component of sustainable development.
Western Research Supporting This Goal
Dr. Nadine Wathen started the Joint Graduate Program in Health Information Science because she saw a need for a more broad understanding of health, information, and how to more effectively mobilize knowledge for social impact. The program attracts students from all disciplines, from political science to medicine. She believes that people come to the HIS program because something is "irritating them".

 READ MORE ABOUT NADINE'S WORK
Western Initiatives Supporting This Goal
As part of a program promoting inclusivity, the Gender Equality Network is a University Students' Council funded service that aims to educate about issues of gender equality and diversity through programming such as conferences, invited speaker series, and collaborative initiatives with other on-campus groups and community partners. The Gender Equality Network provides a safe space, resources, and information for students who want to volunteer with local London organizations such as the Sexual Assault Centre London (Western University Student Council, 2019).
Go ENG Girl and Go CODE Girl are programs undertaken by Western Engineering which provides interactive and exciting opportunities for girls in grades 7-11 to be introduced to engineering, coding, and related STEM fields. For the event, women professionals, academics, and students plan a day of fun hands-on activities and information sessions to promote women in engineering in the London and Sarnia areas.
Student Health Services recognizes the needs of gender-diverse students at Western. Therefore, they have created a Trans Care Team that is comprised of a group of clinicians from Student Health Services and psychological counseling who work to provide medical care and counseling to students in an LGBTQIA2S+ affirmative environment (Western University, 2019). Clinicians are able to offer one-on-one and group counseling (UniQ Support group) (Western University, 2019). Clinicians have received training from Rainbow Health Ontario (Western University, 2019).
The Women of Ivey Network (WIN) engages and connects Ivey alumnae to share in women-focused initiatives and creates a community dedicated to supporting and advancing women in leadership roles. The Network provides support through networking, professional development, mentorship and opportunities to give back in the communities in which we operate. (Ivey Business School, 2019).