SDG4 - Quality Education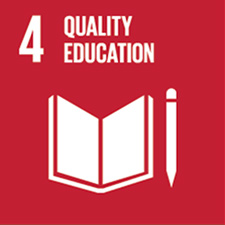 'Quality Education' seeks to ensure that education is equitable and inclusive around the globe. Quality education can improve quality of life both for an individual and a community, as education can provide the skills and knowledge to develop innovative ideas and help alleviate local problems and issues. Ensuring access to quality education is a big step towards sustainable development (United Nations, 2019).
Western Initiatives Supporting This Goal
Western offers a number of bursaries that supplement students' primary sources of funding such OSAP, bank loans/lines of credit and parental/spousal contributions. Western determines financial need in a similar manner to the Canada ad Ontario Student Loans assessment (Western University, 2019). This involves analyzing the costs of the program that students are registered in or applying for, and any available resources (Western University, 2019). Some of the bursaries that Western offers are:
• Fall, Winter, and Summer Bursary Funding
• Senior Citizen Bursary
• First Generation Bursary
• Fairmount Foundation International Learning Bursary
• The International Student Bursary Program
• Graduate Student Bursary
EnviroWestern is an organization on campus that provides action and advocacy for environmental issues relevant to students completing their education at Western. The group also provides opportunities for students to get involved through events and initiatives that they run in collaboration with other groups on campus. Annually, the executive organizes an environmental awareness week known as Enviro-Week, which requires different programming and awareness campaigns throughout campus to allow students to understand various environmental issues (Western University 2019). Also, events hosted by different groups of students between undergraduate and graduate studies aim to elaborate on the importance of the issues that our society faces and how an integrated approach is required to come up with solutions to these problems (Western USC, 2019). Some of the outreach events include, but are not limited to the following:

I. Western Waste Audit - a waste audit conducted with graduate students in the Masters of Environment and Sustainability (MES) program.

II. Green Tours of LEED-certified buildings provided by EnviroWestern volunteers to allow the Western community to learn about the green buildings around campus.

III. Western's World Water Week - an educational outreach campaign discussing the consumption of bottled water. IV. GROW Reforestation, wildflower, and Community Garden programs. V. Mug Team - a program that promotes reusable alternatives.

VI. Campus Cleanups - a program that collaborates with students wishing to partake in garbage cleanups around main campus.

VII. Refill to Win allows students the chance to win prizes for bringing a reusable mug to school.

VIII. A holiday Market, which sold eco-friendly products and promoted sustainable living.
Hospital Services hosted a plant-based culinary training called Forward Food. Forward-Food is a program implemented by the humane-society and its focus is on training chefs to create more plant-based food in an effort to create a better food system. 24 Hospitality Service Chefs, Assistant Chefs, Supervisors, and Managers underwent a two-day, hands-on, plant-based culinary training workshop. They learned how to make food such as "crabbyless" crab cakes, cauliflower buffalo wings, éclair cake, and garbanzo bean sliders. Forward Food Culinary Training taught these members of Western about new ingredients and cooking techniques to produce plant-based food. It also reminded them of the amazing flavours and textures that can be derived from simple, wholesome ingredients.
The Indigenous Food and Medicine Garden is a green space on campus that is governed by the Garden Council within Indigenous Services at Western. It is meant to foster and enhance Indigenous presence, knowledge while growing the chance to increase Indigenous organic and sustainable food on campus (Indigenous Services, 2019). Conveniently located by the Green House, this garden grows multiple different plants and vegetables such as sage, tobacco, and corn, which are of cultural significance to Indigenous communities around Canada (Indigenous Services, 2019). By promoting goals such as increasing Indigenous knowledge on sustainable farming practices and providing opportunities for Western community members to learn the importance of the horticulture in the garden, based on Indigenous spirituality and customs, the Indigenous Food and Medicine Garden continues to foster an inclusive environment (Indigenous Services, 2019). By giving students access to the opportunity to grow their own food and medicine, the Garden Council uses these plants and vegetables to create programs on the importance of Indigenous communities in Canada. Finally, the garden acts as a collaborative space for different members of Western and the London community to practice experiential education at the university (Indigenous Services, 2019).
Ivey Connects is a student-led organization working to inspire students at Ivey Business School to contribute in the societies in which they operate - a vital aspect of the school's mission statement. Ivey students have a wealth of resources that, if harnessed, translate to great potential to affect positive change in the community. The organization provides opportunities for students to give their time through volunteerism and fundraising efforts, and their talent - management or otherwise - to those in need in the community. One of the initiatives under Ivey Connects is the Community Internship Program. Sponsored by London Life, this program allows eight non-profit organizations to offer paid summer internships to Ivey students. This opportunity allows students with a passion for social impact to develop early work experience in this space while helping non-profit organizations advance their mission in the community.

Ivey Connects' mandate is to:

• Harness the talent and energy of Ivey students to make a positive impact on non-profit organizations and the community

• Develop better business leaders who will contribute to the communities in which they will operate by exposing students to leading for-profit organizations that are responsible members of the community

• Create a strong sense of business ethics and community involvement

• Encourage students to think about sustainable development, corporate social responsibility, and community involvement from a business perspective
Western has a sustainability blog that ensures that sustainability education and promotion is an integral part of campus life. FM has also created a sustainability newsletter called 'Purple & Green' (Western University, 2019). This newsletter discusses how students at Western contribute to sustainability on campus. 'Purple & Green' also aims to include seasonal information covering various events. @GreenWesternU on Twitter and Western University Sustainability on Facebook are the primary social media platforms that focus specifically on campus sustainability (Western University, 2019). These Twitter and Facebook accounts highlight environmental initiatives occurring daily on campus, as well as helpful green tips for students, faculty, and staff.
Within Western University, several research facilities exist to enhance the innovation of sustainability initiatives. In the 2018 STARS report, 52 academic departments were identified with at least one active faculty or staff member researching sustainability (Western University, 2018). Each department of the university that conducts research was examined, and a complete list was put together based on the list of researchers each department provided (Western University, 2018). These faculties engage with almost 350 different researchers across Ontario in varying disciplines with the hopes of emphasizing interdisciplinary collaboration to help address many of the sustainability issues the world faces today (Western University, 2014).
Rez Power Down is a student-run sustainability initiative that was created to reduce emissions within residences (Western University, 2019). It is a competition between the residences and the winning residence is given 50% of the monetary savings (Western University, 2019). The energy dashboard is used to track energy usage over a two-week period. In 2012, the winning residence (London Hall) managed to reduce their energy consumption by 19.3% (18,000 kWh of energy) (Western University, 2019). Western celebrates World Earth Hour at the end of March every year from 8:30 p.m. - 9:30 p.m. (Western University, 2019). Students, faculty, and staff are asked to turn off lights, unplug electronics, and turn off computers during this hour.
Western has approximately 1744 student awards, a number of internal scholarships, a number of external scholarships and awards, academic merit scholarships, need-based awards, and employee group scholarships.
Hosted by FM, these presentations provide insight on how to incorporate environmental education in a practical setting to Western community members who may not be familiar with sustainability at Western. These presentations discuss several of the sustainability initiatives being pursued at Western, including energy and water conservation measures and waste management practices (Western University, 2019). By actively participating, audience members are then encouraged to compete in challenges to practice the information they just learned and create new ideas to potentially resolve many of society's sustainability issues (Western University, 2019).
The Western Green Awards were initiated to raise awareness of sustainability at Western University. These awards acknowledge Western community members who have made positive environmental contributions. The Western Green Awards recognizes any student on campus, whether it is an individual or team with an initiative or activity that garners positive environmental outcomes (Western University, 2019). By providing a financial incentive of $1000, Green Awards allows anyone who is passionate about enhancing sustainability to partake and improve the insight on the importance of sustainability among fellow members of the Western and London community (Western University, 2019).
In 2014, Western's Ideas for Sustainability and the Environment (WISE) competition was established to foster innovative and high-impact ideas that reduce or eliminate today's most pressing environmental concerns. The competition allows Western students to generate ideas around the topic of sustainability. By addressing an idea surrounding the three pillars of sustainability (people, planet, and profit), students or groups of students can win a prize of $1500. These ideas in the future will potentially enhance Western's sustainability practices.