SDG3 - Good Health & Well-being
SDG3 - Good Health & Well-being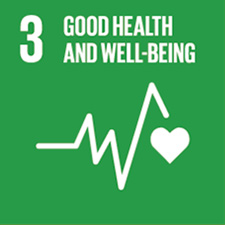 'Good Health and Well-being', seeks to ensure healthy living by promoting health advocacy, research, and disease prevention in all ages around the world. The goal seeks to reduce global mortality through initiatives such as ensuring access to sexual and reproductive health-care, providing support and programs for prevention and treatment of substance abuse, support the development of vaccines, and reduce the number incidents related to hazardous materials (United Nations, 2019).
Western Research Supporting This Goal
"Where do your skills lie?"
This is the question that Dr. Gregor Reid, a scientist at the Lawson Health Research Institute at St. Joseph's Hospital and Western professor, asks his undergraduate students. Reid believes that successful teams are built from people with different skill sets and perspectives.

 READ MORE ABOUT GREGOR'S WORK
Western Initiatives Supporting This Goal
Active Minds Western is an organization in collaboration with the USC and the Wellness Centre. This organization aims to empower students to speak openly about mental health in order to educate others (Active Minds, 2019). Active Minds encourages students to seek help as soon as it is needed through Wellness Centre services or other student health services available on Western's campus (Western Link, 2019). By serving as a liaison between students and the mental health community in the London area, Active Minds is attempting to set the precedent for how mental health is changing Western campus life (Western Link, 2019). Furthermore, Active Minds is trying to take the next steps in mental health advocacy, involving a push for policy reforms and a more intersectional mental health conversation.
Student Health Services provides injections for vitamin deficiencies, allergies, and immunization (Western University, 2019). Students can book an appointment to receive these injections. Some of the immunization injections include tetanus, polio, hepatitis B, HPV, and the influenza vaccine (Western University, 2019).
Student Health Services at Western offer birth control sessions and pamphlets to students who are interested in getting a prescription for birth control (Western University, 2019). Sessions include information on what types of birth control they can provide. Students have a choice of either attending these sessions or booking a one-on-one appointment (Western University, 2019).
Students at Western can be referred to a psychiatrist at Student Health Services with a referral from a family doctor (Western University, 2019). During peak times in the school year, there can be up to a three or four-month wait to get an initial appointment (Western University, 2019). Professors at Western are provided with the campus resources needed to support a student requiring psychiatric assistance.
Residence staff and sophs engage in distinct training modules regarding mental health and well-being. These training modules include frameworks for helping, safeTALK suicide alertness, and resiliency (Western University, 2019). In this training, the goal is to increase the awareness of student leaders to become more attuned to the possible signs and symptoms of mental health concerns in their communities and to enable them to make meaningful referrals to appropriate resources (Western University, 2019).
The Peer Support Centre is a USC student-led initiative that aims to provide non-professional academic and mental health support to students. All volunteers are trained by mental health professionals in the model of peer-based support (Western University, 2019). With continuous training throughout the year, these volunteers support other students by providing resources, training for other Western students, and a non-judgmental and supportive space where students continue to express their feelings. By allowing students to explore resource options provided by the university, the City of London, and the USC, the Peer Support Centre aims to ensure that the well-being of students during their time at Western is upheld (Western USC, 2019).
At Student Health Services, physicians can test for all common sexually transmitted infections such as gonorrhea, chlamydia, syphilis, HIV, and hepatitis B (Western University, 2019). Physicians are sensitive when doing STD testing. An event called, "Get Tested Western" was hosted by the UCC and Middlesex London Health Unit encouraging students to get tested for STIs as a part of an annual health initiative that has been running since 2015.
Western has taken big steps to transition to a smoke-free campus. Since July 2018, smoking on main campus has been limited to six designated smoking areas. Western has created a three-step plan to become a smoke-free campus by summer 2019 (Western University, 2019).

Step 1 (January 1, 2018) - Around all buildings on campus a 10-metre smoke-free space was created.

Step 2 (July 1, 2018) - Smoking is only allowed in the newly created designated smoking areas.

Step 3 (July 1, 2019) - Designated smoking areas will be removed and Western will become a smoke-free campus.

Workshops are available to students, staff, and faculty members who want to stop smoking (Western University, 2019). Additionally, Western hired a team of 17 'Smoke-Free Ambassadors' whose primary role is to raise awareness on the health implications of smoking. These ambassadors interacted with Western community members every day beginning at the end of August until December 2018. In this time period, ambassadors noted a reduction of interactions with smokers from an average of 60+ per day beginning in September to less than 8 people per day in December. When the smoke-free ambassadors interacted with smokers on campus they informed them of the designated smoking area on campus and provided support for those that expressed a desire to quit smoking (e.g. referring them to Student Health Services and programs like "Leave the Pack Behind").
Western has an appointment based medical clinic that can be used by all registered students at Western. Students booking an appointment for urgent care are often admitted on the same day (Western University, 2019). Patients can ask to see a physician of a specific gender or can ask to see a specific doctor (Western University, 2019).
Researchers from Western, Institut Pasteur de Madagascar, the Swiss Tropical and Public Health Institute, and Stony Brook University (New York) have been working together to lead the first global test to use drone technology to aid in tuberculosis (TB) diagnosis and treatment in remote Madagascar (Renaud, 2019). The team received funding from Stop TB Partnership, the Bill & Melinda Gates Foundation, and the Government of Canada (Renaud, 2019). They have spent approximately 2 years testing the ability of drones to pick up patient samples from villages for delivery to medical facilities to be tested (Renaud, 2019). The use of drones would overcome many of the infrastructure challenges that are common in remote areas like the Vatovavy-Fitovinany region of Madagascar (Renaud, 2019). This is because the drone is able to make the trip that is both logistically and economically difficult for villagers to make (Renaud, 2019).
The Wellness Education Centre is a separate resource from the medical clinic that helps to connect students with health and wellness resources (Western University, 2019). Staff creates interactive, educational wellness activities to allow students to become more proactive about their health and well-being (Western University, 2019). Appointments are not needed for the Wellness Education Centre as they operate on a drop-in basis. Their mission is to foster learning, growth, and development in the Western community through personalized approaches to wellness (Western University, 2019). One of their main resources is the Mental Health and Wellness Resource Guide for undergraduate and graduate students, which contains on and off-campus resources for students who are attempting to seek mental health assistance. It also provides a guideline for how to best seek support to ensure that all dimensions of a student's health are sustained during their time at Western.