SDG17 - Partnership for the Goals
SDG17 - Partnership for the Goals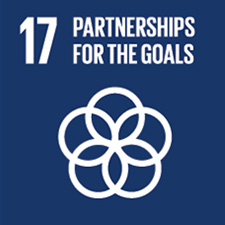 'Partnership for the Goals', seeks to improve the implementation and reactivation of global partnership for sustainable development (United Nations, 2019). It aims to bring together national governments, the international community, civil society, the private sector, community members, and various other actors to improve collaboration for increased sustainable development (United Nations, 2019).
Western Initiatives Supporting This Goal
Western's Centre for Urban Policy and Local Governance (CUP-LG) was created in 2017 to respond to many new challenges that face local governments and urban policy makers (Western University, 2019). The Centre brings together academic researchers and students from across Western and beyond and the goal is to facilitate new interdisciplinary collaborations on pressing questions to create discussion between academics and policy practitioners (Western University, 2019).
In 2012, the Local Government Program began a partnership with the City of London to offer Western's Graduate Diploma in Public Administration (GDPA) program to its employees (Western University, 2019). The program ran from Fall 2012 to Summer 2013 and the first cohort graduated in Fall 2013 (Western University, 2019). The Local Government Program and the City of London have continued this partnership.
The City of London has considered shifting to rapid transit within the City to aid its continuous growth. The City has identified 4 key corridors for a rapid transit system. The route that serves the Western campus is a northern branch from downtown to Masonville Place (Western University, 2019).

In June 2016, Western's Board of Governors unanimously supported both the plan for improved transit in the City and the introduction of rapid transit running to campus (Western University, 2019). The Board also stated that the university would complete an open-space-and-landscape-planning exercise intended, in part, to make the campus a more pedestrian-focused space with limits on vehicular traffic (Western University, 2019). There was also an assessment of where transit routes should go, as well as the possible construction of transit hubs (Western University, 2019).

The City and Western have continued to work towards finding a solution to ensure bus transit and the proposed Bus Rapid Transit provide convenient service to campus while maximizing ridership and service efficiencies and minimizing environmental and social impacts at Western (Western University, 2019).
Western has a sustainability blog that ensures that sustainability education and promotion is an integral part of campus life. Currently, @GreenWesternU on Twitter and Western University Sustainability on Facebook are the primary social media platforms that focus specifically on campus sustainability (Western University, 2019). These Twitter and Facebook accounts highlight environmental initiatives occurring on campus, as well as helpful green tips for students, faculty, and staff.