SDG16 - Peace, Justice, and Strong Institutions
SDG16 - Peace, Justice, and Strong Institutions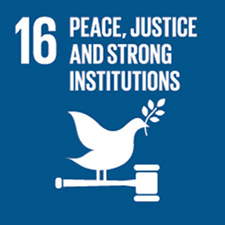 'Peace, Justice, and Strong Institutions', promotes peaceful and inclusive societies for sustainable development (United Nations, 2019). It aims to provide access to justice for everyone and create effective, accountable, and inclusive institutions at all levels (United Nations, 2019). Many places around the world have to deal with horrors such as armed conflict, human trafficking, and genocide. Additionally, improvements in the promotion of the rule of law and increasing of access to justice are uneven throughout the world (United Nations, 2019). Therefore, this SDG is needed to strengthen institutions upholding of human rights at the national level (United Nations, 2019).
Western Research Supporting This Goal
In 1962, Uganda declared independence from British rule, resulting in a series of violent political campaigns and coups. The fight for political power resulted in widespread conflict and systematic violence. In 1998, Dr. Joanna Quinn, then a doctoral student, began her work in Uganda, focusing on helping communities move past the violence through the use of transitional justice.

 READ MORE ABOUT JOANNA'S WORK
Western Initiatives Supporting This Goal
Western's Centre for Urban Policy and Local Governance (CUP-LG) was created in 2017 to respond to many new challenges that face local governments and urban policymakers (Western University, 2019). The Centre brings together academic researchers and students from across Western and beyond and the goal is to facilitate new interdisciplinary collaborations on pressing questions to create discussion between academics and policy practitioners (Western University, 2019).
Located in the Western Law building, CLS provides free legal advice and representation for those in financial need to Western students, Fanshawe College students, and community members. CLS can offer help for issues such as criminal law, family law, Small Claims Court, immigration, and housing. Functioning as a teaching clinic, law students can gain experience working on files by taking clinical courses at CLS throughout the school year or working there in the summer. In addition, CLS also hosts 'Access to Justice' symposiums, bringing together legal professionals to discuss issues and present solutions to improve access to justice in Canada. (Western Law, 2019).
Western has been a designated Fair Trade campus since 2015. In 2014, Western began phasing in Fire Roasted Fair Trade Coffee at a number of locations on campus (Western University, 2019). This was done in response to growing demand from Western students for ethically produced coffee. Additionally, there is a student club at Western called Fair Trade Western whose goals on campus and in the London community are to (Western University, 2019):
• Raise awareness about Fair Trade.
• Increase the availability of Fair Trade products on campus.
• Increase the visibility of Fair Trade products where they are sold.
The Western Model UN society was founded to provide a platform for students to practice diplomacy and discuss important international political issues in a setting that simulates the actual United Nations. Members can practice and apply skills such as debating, conducting research, problem-solving, and fostering cooperation, which aims to help provide members with the experience to tackle challenging political issues later in their professional careers. The Western Model UN society provides educational workshops and two in-house conferences: WESMUN for university students across Southwestern Ontario, and WxMUN for high school students. Additionally, the Western Model UN sends large delegations to two Canadian conferences held at Queen's and McGill.