SDG15 - Life On Land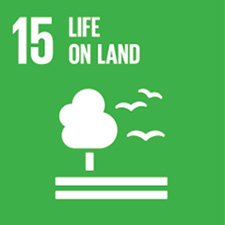 'Life on Land', aims to restore and protect terrestrial ecosystems, sustainably manage forests, reduce desertification and biodiversity loss, and stop and reverse land degradation (United Nations, 2019). The earth's forests are continuing to shrink from 4.1 billion hectares in 2000 to about 4 billion hectares in 2015 (United Nations, 2019). Additional, biodiversity loss is a huge problem all over the world as there has been an alarming trend on the decline of mammals, birds, amphibians, corals, and cycads (United Nations, 2019).
Western Initiatives Supporting This Goal
Western was the first university in Canada to receive Bee Campus designation from Bee City Canada. Pollinators play a huge role in ensuring that many plants on campus remain healthy. Additionally, by having bee hives on campus, students are able to learn from the bees (one of the most valuable species in the world). Also, with the colony collapse disorder threatening the population of bees, it is important for universities to get involved and provide pollinator-friendly environments. Honey from the bee hives is used at Green Leaf Café and by Great Hall for its catering services.
Western has an annual Campus Clean Up that is planned around Earth Day. Students, faculty, and staff are encouraged to clean up areas of campus where litter has accumulated following the Spring thaw. During Campus Clean Up, volunteers make a noticeable difference in the collection of waste and recyclable from campus (Western University, 2019).
Green space on campus includes pathways, courtyards, the Sherwood Fox Arboretum, natural areas, and wetlands. Western has developed a Landscape Plan that ensures that natural resources on campus are preserved. Examples of this preservation include the allocation of lands for the arboretum and the enhancement of courtyards and other green spaces (Western University, 2019). Species native to Southwestern Ontario are typically planted whenever adding to the landscape. Natural spaces can be very beneficial for the campus community as they are able to interact with the outdoors, which improves mental health. Additionally, these spaces enhance the beauty of the campus. The preservation of trees on campus is very important to planning at Western. When trees are removed on campus, one or more are planted in their place (Western University, 2019).
The Indigenous Food and Medicine Garden is a green space on campus that is governed by the Garden Council within Indigenous Services at Western. It is meant to foster and enhance Indigenous presence and knowledge while growing Indigenous organic and sustainable food on campus (Indigenous Services, 2019). Conveniently located by the Green House, this garden grows multiple different plants and vegetables such as sage, tobacco, and corn, which are of cultural significance to Indigenous communities around Canada (Indigenous Services, 2019). By promoting goals such as increasing Indigenous knowledge on sustainable farming practices and providing opportunities for Western community members to learn the importance of the horticulture in the garden, based on Indigenous spirituality and customs, the Indigenous Food and Medicine Garden continues to foster an inclusive environment (Indigenous Services, 2019). By giving students access to the opportunity to grow their own food and medicine, the Garden Council uses these plants and vegetables to create programs on the importance of Indigenous communities in Canada. Finally, the garden acts as a collaborative space for different members of Western and the London community to practice experiential education at the university (Indigenous Services, 2019).
Western follows a strict Integrated Pest Management Plan, which uses native and ecologically appropriately plants and controls for invasive species (Western University, 2019). Western is committed to landscaping with environmentally friendly materials and reuses as many materials as possible in order to minimize waste. The University no longer uses herbicides for weed control on hard surfaces (Western University, 2019).

Western recycles and reuses 100% of the leaves on campus (Western University, 2019). Other materials such as grass clippings, plant material, soil, and turf are also added to the mix. Maintaining and enhancing natural nutrient cycles, water cycles, and irrigation techniques are of high priority on campus (Western University, 2019).

Western uses a magnesium chloride additive to allow salt to work at extremely cold temperatures. Western staff are trained on the 'Smart About Salt' Program, which teaches them how to sparingly use salt (Western University, 2019).
This arboretum contains all of the planted trees and shrubs on campus. Sherwood Fox Arboretum plays an important role in public education and scientific research. The trees on campus have labels on them for easy identification (Western University, 2019). It is important to have planted trees on campus as they improve the air quality on campus, they provide habitats for wildlife, and they can improve the mental health of the campus community.