SDG13 - Climate Action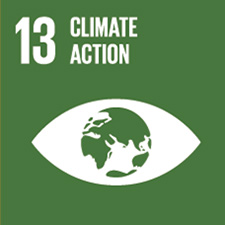 'Climate Action', advocates for action to be taken to combat climate change and its impacts (United Nations, 2019). With temperatures around the world continuing to rise, it creates environmental impacts around the world that put humans at risk. For example, climate change has resulted in the rising of sea levels, extreme weather conditions, increased spread of diseases, and increased concentrations of greenhouse gases in the atmosphere (United Nations, 2019). Therefore, this SDG calls for urgent action from countries all around the world to implement policies, regulations, and infrastructure that reduce their contribution to climate change.
Western Research Supporting This Goal
Dr. Gordon McBean's current research is focused on climate change adaptation strategies, particularly those that can be adopted by governing bodies. His research works to create cohesiveness between the layers of local, provincial, and national governance to implement climate change adaptation strategies of the SDGs and the Paris Climate Agreement and coordinate them with disaster risk reduction strategies and the Sendai Framework for Action on Disaster Risk Reduction. 

READ MORE ABOUT GORDON'S WORK
Western Initiatives Supporting This Goal
Western's campus is bicycle and rollerblade friendly, as main areas that lead to the campus have paths and many routes on campus have been closed to vehicles (Western University, 2019). There are racks on campus for approximately 2,100 bicycles, and they are placed near building entrances (Western University, 2019). Additionally, there are bike lockers located around campus.

The university provides an online map showing the location of all bike racks and showers on campus. This map is useful for anyone who wants to cycle to campus and shower before class or work.

A group of volunteers at University Students Council's Purple Bikes shop offer bicycle workshops and bike rental services throughout the year. This initiative promotes cycling at Western University and within the London community. Purple Bikes allows people to commute within campus and tour the City of London. Purple Bikes' affordable bike repair workshop provides people with tools and spare parts for their bikes (Western University, 2019).

Furthermore, Western consists of a number of pathways and sidewalks, which allows pedestrians to get to many different points on campus. At some busier crosswalks on campus, there are flashing lights for pedestrian safety (Western University, 2019). There is also a walking tour map available online highlighting interesting and important features of the Western campus.

Western's new Open Space Strategy is also designed to promote active transportation by prioritizing pedestrian routes, reducing cut-through traffic, and improving accessibility.
Partnered with the City of London, Western's Parking Services provides an online method that supports carpooling. The steps include (Western University, 2019):
I. Find carpooling on the Parking Services website
II. Register as a carpooler
III. Find a carpool partner
IV. Read and agree to the Carpool Program Policy
V. Indicate your interest and schedule an appointment

The Western website also informs the public of the social, economic, and environmental benefits of carpooling which would influence students to use the carpooling service. Staff and faculty at Western are also encouraged to carpool to work. When two or more parking passes are merged into one carpool pass, they are given a preferred parking space on campus.
Western set Energy Conservation goals in 2014 and these goals drive investment and innovation within Western's facilities. These goals are (Western University, 2019):

• Reduce energy use intensity by 9% below 2012 levels.
• Reduce overall energy use by 4% below 2012 levels.
• Reduce water use intensity by 8% below 2012 levels.
Western currently has two EV charging stations. One station is located in the Visual Arts parking lot and the other is in the Alumni/Thompson parking lot (Western University, 2019). The station at the Visual Arts parking lot is open to staff/faculty only and the station at the Alumni/Thompson parking lot is open to visitors (Western University, 2019). Staff and faculty with parking permits have access to the charging station in Visual Arts at $1.50/hour (max. 2 hours), and the same rate applies for visitors at the Alumni/ Thompson lot.
According to provincial legislation (O. Reg. 397/11), universities are required to report their scope 1 emissions (Western University, 2019). Scope 1 emissions are emissions from sources such as natural gas, coal, fuel oil, gasoline, diesel, or refrigerants. Western reports Scope 1 emissions to federal and provincial agencies every year. To ensure that Scope 1 emissions are accurate and to reinforce accountability, Western has the reports verified by an accredited third party. In 2011, Scope 1 emissions were 50,180 metric tonnes of CO2e (Western University, 2019). In 2018, Scope 1 emissions were 49,484 metric tonnes of CO2e (Western University, 2019).Since 2011, emissions have dropped by 696 metric tonnes of CO2e (1.4%) while increasing the square footage (8,416,585 sq ft in 2011 to 9,353,287 sq ft in 2018) and population (25,712 in 2011 to 30,522 in 2018) on campus. Reporting emissions increases accountability and transparency, encouraging universities to reduce their emissions. Western aims for a GHG emission reduction of 37% by 2030 and a GHG emission reduction of 80% by 2050 (based on 1990 levels) (Western University, 2019). 1990 GHG emission levels were 33,099 metric tonnes of CO2e.
Rez Power Down is a student-run sustainability initiative that was created to reduce emissions within residences (Western University, 2019). It is a competition between the residences and the winning residence is given 50% of the monetary savings (Western University, 2019). The energy dashboard is used to track energy usage over a two-week period. In 2012, the winning residence (London Hall) managed to reduce their energy consumption by 19.3% (18,000 kWh of energy) (Western University, 2019).

Western celebrates World Earth Hour at the end of March every year from 8:30 p.m. - 9:30 p.m. (Western University, 2019). Students, faculty, and staff are asked to turn off lights, unplug electronics, and turn off lights during this hour.
The University Students Council has negotiated a subsidized bus pass program that allows full-time students to have unlimited bus transportation at a significant discount (Western University, 2019). Bus shelters are placed in areas on campus where students congregate to allow for an effective and comfortable busing experience.