SDG12 - Responsible Consumption & Production
SDG12 - Responsible Consumption & Production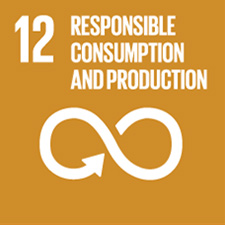 SDG 12 seeks to ensure sustainable consumption and production patterns (United Nations, 2019). This SDG promotes economic development but not at the cost of resource depletion. This can be a challenge and therefore requires policies that allow for an environment that is welcoming of change. This SDG essentially aims to reduce the material footprint of various entities (United Nations, 2019).
Western Research Supporting This Goal
Tima Bansal studies issues of time, space, and scale and is primarily focused on issues of production and consumption that are of macro scale. She states that in terms of sustainability, there is little that can be done at the individual level. However, sustainable consumption and production at the organizational level can have a huge impact.

READ MORE ABOUT TIMA'S WORK
Western Initiatives Supporting This Goal
Approximately 30% of the waste stream from 2017 consisted of organics (Western University, 2019). At Western, there are four different composting/organics collection systems. These are (Western University, 2019):

I. Kitchens on campus have back of house composting where the scraps generated during food preparation are placed.

II. In residences, organics can be disposed of in the organics stream in the cafeteria. Napkins, tissues, and paper plates can also be put in this stream.

III. There are compost bins available at the UCC Sustainability Centre, the UCC Starbucks, the Spoke, the Wave, Social Science Tim Hortons, the Grad Club, and in the Support Services Building. There are also signs that show which items are compostable.

Students, faculty, and staff can participate in the Green Bin Program. The participants are required to sign a contract (with a co-signer) stating that they will be responsible for emptying the green bin into a larger bin (usually located in their building's loading dock). Participants receive a compost bin, signage and compostable bags.
Every year a campus-wide waste audit is conducted at Western which determines the success of waste diversion programs, the composition of waste, and which months have the highest and lowest rates. Western's current diversion rate is around 55% indicating that this percentage of the waste is diverted from going to landfill by recycling, reuse, and composting (Western University, 2019).
Western has a goal to become a Zero Waste campus by diverting approximately 90% of its waste by 2022. The audits demonstrate that waste diversion has increased significantly since 2012. In 2017, approximately 1,912 tonnes of waste was created as landfill materials out of the overall 3,853 tonnes of waste generated for the fiscal year (Western University, 2019). Therefore, 1,941 tonnes of waste was diverted from going to landfill that year.
Historically, trends in waste consumption have been interconnected with waste audits previously conducted. A waste audit conducted in 2012, showed that out of the 2942 tonnes of waste generated at Western, 1338 tonnes were recycled or composted (diversion rate of 45%) (Western University, 2019). This waste audit revealed that the biggest waste challenges at Western are paper towels and disposable coffee cups. The waste audit also found that approximately 18% of the waste that was sent to landfill could have been recovered through proper recycling (Western University, 2019).
Western has been a designated Fair Trade campus since 2015. In 2014, Western began phasing in Fire Roasted Fair Trade Coffee at a number of locations on campus (Western University, 2019). This was done in response to growing demand from Western students for ethically produced coffee. Additionally, there is a student club at Western called Fair Trade Western whose goals on campus and in the London community are to (Western University, 2019):
• Raise awareness about Fair Trade.
• Increase the availability of Fair Trade products on campus.
• Increase the visibility of Fair Trade products where they are sold.
According to provincial legislation (O. Reg. 397/11), universities are required to report their scope 1 emissions (Western University, 2019). Scope 1 emissions are emissions from sources such as natural gas, coal, fuel oil, gasoline, diesel, or refrigerants. Western reports their scope 1 emissions to federal and provincial agencies every year. To ensure that scope 1 emissions are accurate and to reinforce accountability, Western has its scope 1 emissions verified by an accredited third party. In 2011, scope 1 emissions were 50,180 metric tonnes of CO2e (Western University, 2019). In 2018, scope 1 emissions were 49,484 metric tonnes of CO2e (Western University, 2019). Therefore, since 2011, emissions have dropped by 696 metric tonnes of CO2e (1.4%). Western was able to reduce emissions by 696 metric tonnes of CO2e while increasing the square footage (8,416,585 sq ft in 2011 to 9,353,287 sq ft in 2018) and population (25,712 in 2011 to 30,522 in 2018) of campus. By reporting emissions, it increases accountability and transparency, which encourages universities to reduce their emissions. Western aims for a GHG emission reduction of 37% by 2030 and a GHG emission reduction of 80% by 2050 (based on 1990 levels) (Western University, 2019). 1990 GHG emission levels were 33,099 metric tonnes of CO2e.
Western currently uses Enviro-Solutions cleaning products, which include a Green Seal certification and Ecologo mark certified by Environment Canada which is safer for the workplace and the natural environment (Western University, 2019).
Hazardous waste collection at Western is handled by a company called RPR Environmental which allows technical and environmental specialists to provide a unique, hands-on approach to waste management (Western University, 2019). The range of users of hazardous waste varies from several labs including the Faculty of Science, Faculty of Engineering, Faculty of Computer Science, and more. Users of the service must complete an inventory form, which asks them to illustrate the hazard, container material, and any special handlings that must be associated with all the hazardous waste they want to have picked up. The hazardous waste is picked up weekly at designated loading docks across campus (Western University, 2019).
Hospitality Services has created a Sustainability Action Plan in order to recognize the importance of taking responsibility and creating action to become more sustainable. Some of the priorities of this Sustainability Action Plan are (Western University, 2019):
• Ensuring local procurement and communicating information along the supply chain. • Having a Fair Trade Campus.
• Using healthy, organic, herbs and sprouts that are grown in the Urban Cultivators on campus.
• Using honey from on-campus honeybee hives.
• Having vegetarian options in residences.
• Hosting special/cultural events on campus.
• Having sustainable food options in the campus eateries including MSC Certified sushi.
• Having Healthier 4 U vending machines (including the newest "Farmer's Fridge") that make healthier eating after-hours easy.
• Continuing Western's Farmers' Market.
• Continuing working with the Vegan Society at Western to increase vegan options in campus eateries.
Western follows a strict Integrated Pest Management Plan, which uses native and ecologically appropriately plants and controls for invasive species (Western University, 2019). Western is committed to landscaping with environmentally friendly materials and reuses as many materials as possible in order to minimize waste. The university also no longer uses herbicides for weed control on hard surfaces (Western University, 2019).
Western recycles and reuses 100% of the leaves on campus (Western University, 2019). Other materials such as grass clippings, plant material, soil, and turf are also added to the mix. Maintaining and enhancing natural nutrient cycles, water cycles, and irrigation techniques are of high priority on campus (Western University, 2019).
Western uses a magnesium chloride additive to allow salt to work at extremely cold temperatures. Western staff is trained on the 'Smart About Salt' Program, which teaches them how to sparingly use salt (Western University, 2019).
With a provincial grant through the Greenhouse Gas Reduction Program, Western was able to shift from steam to low-temperature heating systems in Spencer Engineering building and the Claudette MacKay-Lassonde Pavilion. This shift will allow Western to introduce a wider range of recaptured and renewable energy sources to the buildings, and result in a 12% reduction in emissions from 2016 levels. (https://mediarelations.uwo.ca/2018/04/02/11-6m-grant-allows-western-reduce-greenhouse-gas-emissions/).
Waste Reduction Week
Western participates in Waste Reduction Week which takes place in October and is an awareness event throughout the country aiming to help Canadians reduce waste (Western University, 2018). This outreach event includes programs that help increase awareness on reducing e-waste, plastics & packaging, food waste, and textiles. It also contains a competition that champions new innovations on how to mitigate waste across Canada (Waste Reduction Week, 2019).

'Zero Waste' Orientation Week
In the hopes to become a Zero Waste Campus by 2022, FM created and organized an event for Orientation Week, entitled "The Amazing Race Western" (Western University, 2019). This event is a scavenger hunt that is available to all incoming undergraduates to learn more about the campus's features, in addition to sustainability initiatives. These events are also available for graduate students during their orientation week (Western University, 2019). By enabling students to learn through presentations, green tours, and "green stations", students learn how to reduce their waste. Additionally, orientation week leaders and participants are given more sustainably sourced materials in the orientation week kit, by offering online resources and magnets instead (Western University, 2019).

Ivey Waste Reduction Challenge
At Ivey, 8 first-year student teams are created to find innovative and creative ways to see which group could improve their waste diversion rates and reduce their total waste output the most (Ivey, 2019). During a baseline audit, the diversion rate was found to be 84%. However, through enhanced education, students were able to achieve a diversion rate of 90% (Ivey, 2019).

Sort-It-Challenge
The 'Sort-It-Challenge' at Western University employs volunteers to help students understand how to sort their waste.
At Western, items are taken to a central location by staff and are then prepared to be transported to London's Municipal Recycling Facility. Recyclable items at Western are plastics, containers, coffee cups, paper, and corrugated cardboard (Western University, 2019). The percentage of general items that were recycled according to the 2017 waste audit was 29.7% while 3.25% of items were reused. In comparison, 29.3% of materials that ended up in landfill were classified as recyclable materials.
Western uses special disposal practices to reduce the harmful effects of electronic waste. In 2017, 54.78 tonnes of e-waste was generated with 65.1% of the total waste created recycled, while 34.9% was found within landfill materials (Western University, 2019). Currently, Western University has an electronic waste recycler which is certified as an appropriate waste sorter under the Canadian Electronics Recycling Standard (Western University, 2019). There are a number of places on campus that students, faculty members, and staff can drop off e-waste, such as in-residence recycling rooms. To organize the pick-up of larger quantities of e-waste, students, faculty, or staff can contact the Service Centre (Western University, 2019).
Western takes part in the THINK Program that is offered by Grand and Toy (Western University, 2019). This is the only method for recycling ink cartridges on campus. With this program, when ink cartridges are ordered, empty cartridges can be returned to the company's driver with no formal request. When placing a large order for an extended period of time, you can use the Grand and Toy website to fill out a request to have your empty toner picked up (Western University, 2019).
At Western, there are a number of locations where textbooks can be dropped off to be recycled. Western works with Textbooks for Change, which is a non-governmental organization that gathers books from academic institutions in Ontario (Western University, 2019). These textbooks can either be re-sold or donated to other countries in need. Within the last month of each semester, the Book Store offers students the opportunity to participate in a Buyback program, which allows students to sell their used textbooks back to them (Western University, 2019).
Western Retail Services is committed to reducing the amount of waste present within all affiliate stores including the Book Store, Books Plus, Campus Computer Stores, and Graphic Services. The WRS Sustainability Policy states that departments are responsible for ensuring sustainable practices within their operations by consulting with employees, campus partners, and community groups (Western University, 2019). In purchasing decisions, WRS states that it must consider resource consumption in all recycling programs. This aims to increase responsible consumption and WRS's positive footprint on the environment. Through programs such as the "Use the Other Side Scratch-Pads" (UTOSS), offices and departments across campus can create scratch pads out of recycled paper in the hopes of reducing paper waste (Western University, 2019).
According to Health Canada, the incorrect disposal of pharmaceuticals can lead to significant adverse environmental effects including feminization of local fish species, bioaccumulation of toxic chemicals from drinking water supplies, and more (Health Canada, 2017). At Western, leftover prescriptions of pharmaceutical drugs can be taken back to the Western On-Campus Pharmacy (Western University, 2019). This ensures that these drugs are correctly disposed of as these substances can negatively impact the environment when they are thrown into the garbage.
Western has committed to incorporating sustainable practices into all aspects of its operations. Western's Procurement Services purchases products and services that meet a range of criteria that aligns with Western's sustainability policies (Western University, 2019). Procurement Services has created a Sustainable Purchasing Guide as a tool to share recommendations for purchasing products that advance Western's sustainability efforts.