SDG11 - Sustainable Cities and Communities
SDG11 - Sustainable Cities and Communities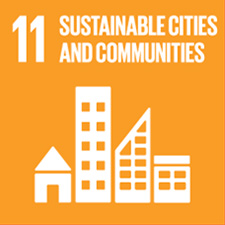 'Sustainable Cities and Communities', aims to make cities and human settlement inclusive, safe, resilient, and sustainable (United Nations, 2019). Cities all over the world must be able to manage rapid urbanization, which leads to environmental challenges such as reduced land availability as a result of urban sprawl and increased vulnerability to natural disasters.
Western Research Supporting This Goal
When trained geographer, architect, and urban planner, Dr. Jason Gilliland started out 15 years ago, his interests quickly turned to community design and its influence on quality of life. "We may not realize it but the design choices we make in our homes, schools, workplaces, communities, and transportation system have a major effect of physical and mental health," says Gilliland.

 READ MORE ABOUT JASON'S WORK
Western Initiatives Supporting This Goal
Western's Centre for Urban Policy and Local Governance (CUP-LG) was created in 2017 to respond to many new challenges that face local governments and urban policymakers (Western University, 2019). The Centre brings together academic researchers and students from across Western and beyond and the goal is to facilitate new interdisciplinary collaborations on pressing questions to create discussion between academics and policy practitioners (Western University, 2019).
In 2012, the Local Government Program began a partnership with the City of London to offer Western's Graduate Diploma in Public Administration (GDPA) program to its employees (Western University, 2019). The program ran from Fall 2012 to Summer 2013 and the first cohort graduated in Fall 2013 (Western University, 2019). The Local Government Program and the City of London have continued this partnership.
The City of London has considered shifting to rapid transit within the City to aid its continuous growth. The City has identified 4 key corridors for a rapid transit system. The route that serves the Western campus is a northern branch from downtown to Masonville Place (Western University, 2019).

In June 2016, Western's Board of Governors unanimously supported both the plan for improved transit in the City and the introduction of rapid transit running to campus (Western University, 2019). The Board also stated that the university would complete an open-space-and-landscape-planning exercise intended, in part, to make the campus a more pedestrian-focused space with limits on vehicular traffic (Western University, 2019). There was also an assessment of where transit routes should go, as well as the possible construction of transit hubs (Western University, 2019).

The City and Western have continued to work towards finding a solution to ensure bus transit and the proposed Bus Rapid Transit provide convenient service to campus while maximizing ridership and service efficiencies and minimizing environmental and social impacts at Western (Western University, 2019).
Western University is a part of the City of London's Town and Gown Committee, which provides a forum for individuals and groups to find solutions to challenges related to near-campus neighborhoods and student-community relationships in London. The Committee is made up of individuals from the City of London, Western University, Fanshawe College, London Police and Fire Services, students, residents, and landlords, and works to gain feedback in order to improve relationships between committee members (https://www.london.ca/city-hall/committees/task-forces/Pages/Town-and-Gown-Committee.aspx)
Your London Calling is an online platform with information and tips about exploring and getting involved in the London community for students starting post-secondary school at Western University or Fanshawe College. Sections of the guide include a London Bucket List, resources for finding housing and renting from landlords and getting involved in the local community. The website is a partnership between the City of London, Western University Students' Council (USC), Fanshawe Students' Union (FSU) and local post-secondary students, who met bi-weekly to create content for the website in 2014 (http://www.yourlondoncalling.ca/about/).