SDG10 - Reduced Inequalities
SDG10 - Reduced Inequalities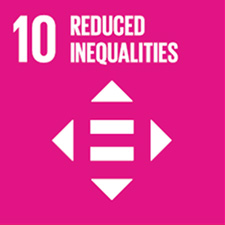 'Reduced Equalities' aims to reduce political, social, and economic inequality within and among countries all over the world (United Nations, 2019). Developed countries can implement this goal by offering financial aid to lesser developed countries (LDCs) and small island developing states (SIDS) (United Nations, 2019). Developed countries can also remove tariffs for exports from LDCs (United Nations, 2019).
Western Research Supporting This Goal
Since beginning her work in the field of socioeconomics, Dr. Kate Choi has always been intrigued by social inequalities and their ability to perpetuate throughout families and generations. She figures that understanding the rationale, she can help reduce the inequalities of future generations. Motivated by findings that race continues to be one of the greatest factors of inequality, she became interested in researching barriers faced by interracial couples and their children.

 READ MORE ABOUT KATE'S WORK
Western Initiatives Supporting This Goal
These committees and commissioners at Western work towards improving the accessibility on campus and creating a supportive environment for those with disabilities (Western University, 2019).
• Western's Ontarians with Disabilities Act Committee (WODAC)
• Barrier-Free Access Committee (BFAC)
• Campus Accessibility Review and Enhancement (CARE) Committee
• President's Standing Committee on Employment Equity (PSCEE)
• Accessibility Commissioner (appointed through the University Students' Council)
• Commissioner for Graduate Students with Disabilities (appointed through the Society of Graduate Students)
The Centre for Research on Social Inequality encourages, organizes, and supports innovative social science research on the causes and impact of social inequality, investigating factors such as aging, gender, and health (Western University, 2019). The Centre consists of a community of scholars working and collaborating on research and methods that advance the scientific understanding of social inequality (Western University, 2019).
Equity and Human Rights Services provides consultation (information and advice) on the University's policies, procedures, and/or collective agreement articles related to discrimination and harassment (Western University, 2019). If a person has experienced, witnessed, or been told about actions that may relate to discrimination and/or harassment, that person may request a confidential consultation with Equity and Human Rights Services (Western University, 2019).
Western has the following university-wide policies that apply to all members of the campus community (Western University, 2019):
• Non-Discrimination/Harassment Policy
• Non-Discrimination/Harassment Policy – Administrative Procedures
• Employment Equity Policy
The Western Heads East Internship Program is an international learning opportunity for students at Western to grow and assist with health sustainability initiatives in Africa (Western University, 2019).
In 2014, Western has addressed and updated its longstanding commitment to improving the accessibility and success in higher education for Indigenous people (Western University, 2019). This has led to an enhanced commitment by the university in collaboration with Indigenous Services to strengthen the engagement and community representation for Indigenous people in study, work, and research.

Therefore, in collaboration with different faculties among campus, Indigenous Services has created Western's Indigenous Strategic Initiatives Committee (ISIC) which comprises of Western's first-ever multi-year Indigenous Strategic Plan (Western University, 2019). This will aim to enhance Indigenous teaching and learning opportunities among students, begin to indigenize Western areas for Institutional Practices and Spaces, increase Indigenous representation in faculty, staff and administration, and achieve excellence in Indigenous research (Western University, 2018).