Western gives new meaning to 'green washing'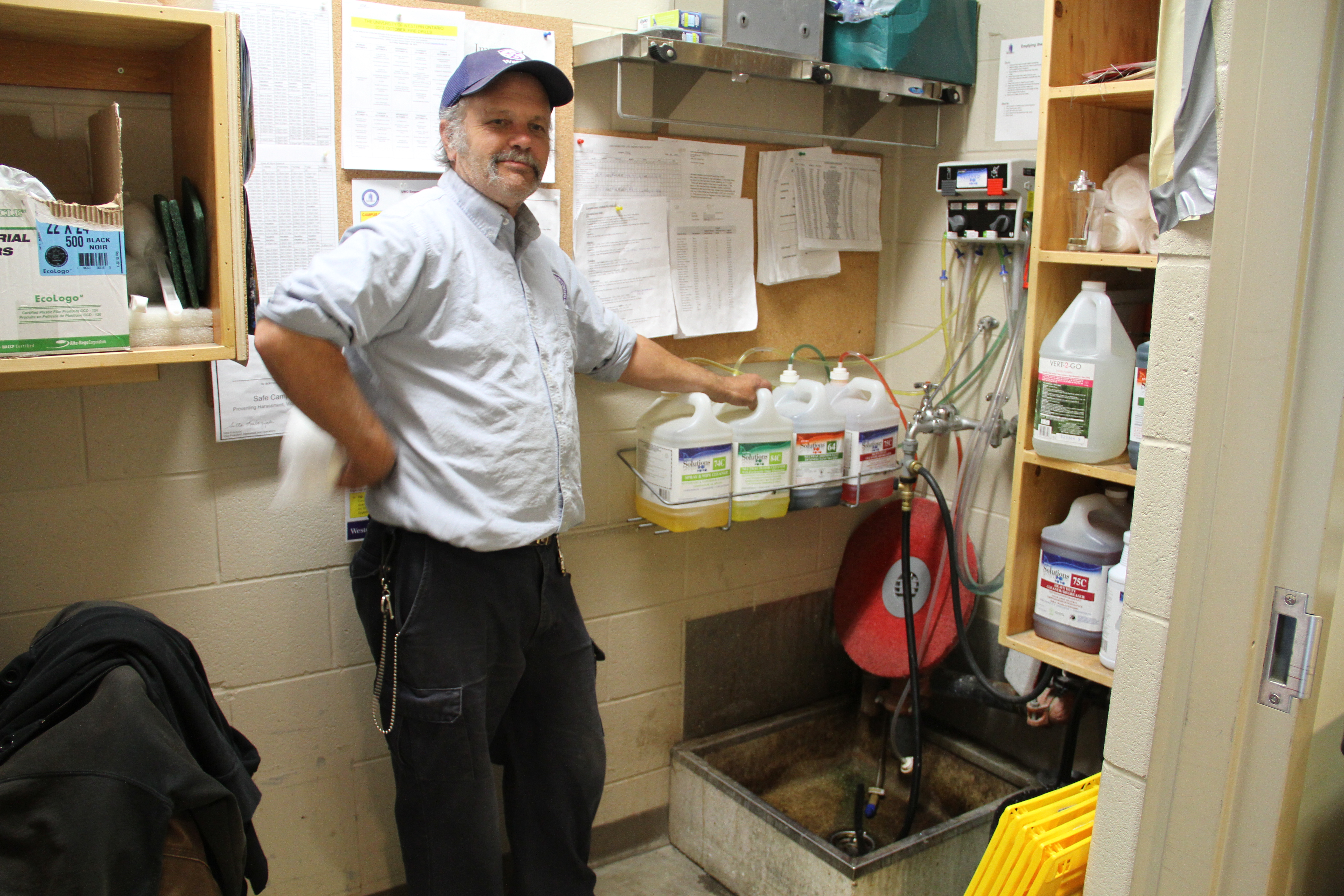 Western's use of environmentally preferred 'green' cleaning chemicals is not 'green washing' in the conventional sense - it's green washing in a more positive light.
Western has moved away from conventional cleaning chemicals and invested in a green cleaning product line. In 2008, with the construction of the Claudette MacKay-Lassonde Pavilion, campus' first LEED Certified building, caretaking service committed to the use of environmentally preferred cleaning products. The benefits were quickly realized and soon the rest of the buildings on campus were being scoured with green friendly supplies.
Jerry Minler, Director, Caretaking Operations was inspired to be more environmentally friendly.
"We wanted to do the right thing," says Minler. "The cost of the green cleaning products is on par with other cleaning products, and they provide better alternatives for our staff, community, and the environment."
Western currently uses an expanded green product line supplied by Enviro-Solutions, offering products that are safer for the workplace and the natural environment. Enviro-Solutions products are typically Green Seal certified and sport the Ecologo, an official mark licensed with Environment Canada.
The floor cleaning product currently used by Western differs from conventional floor cleaning products that are known to harm the environment. Similar to other Green Seal products, it is readily biodegradable, made from naturally derived renewable resources, and has low human and aquatic toxicity.
Not only are the supplies green, but there is a concerted effort to reduce packaging, as well. The green cleaning products are concentrated formulas, using less packaging material for easier transportation.  The smaller containers also conserve space in storage closets and are easier to lift.
Concentrated formulas are loaded into controlled dispensers where they are combined with water to create proper dilutions. This saves time for caretaking staff, no longer required to measure out exacts amounts of solution.
Dan McIntosh, a caretaker at the Support Services Building comments, "It's really easy because [the dispenser] gives the solutions in the proper proportion which maximizes the cleaning ability and minimizes waste."
Western's move to green cleaning is a quintessential triple bottom-line investment – being environmentally, socially and economically sound.