Western Celebrates the Earth: March 22-April 22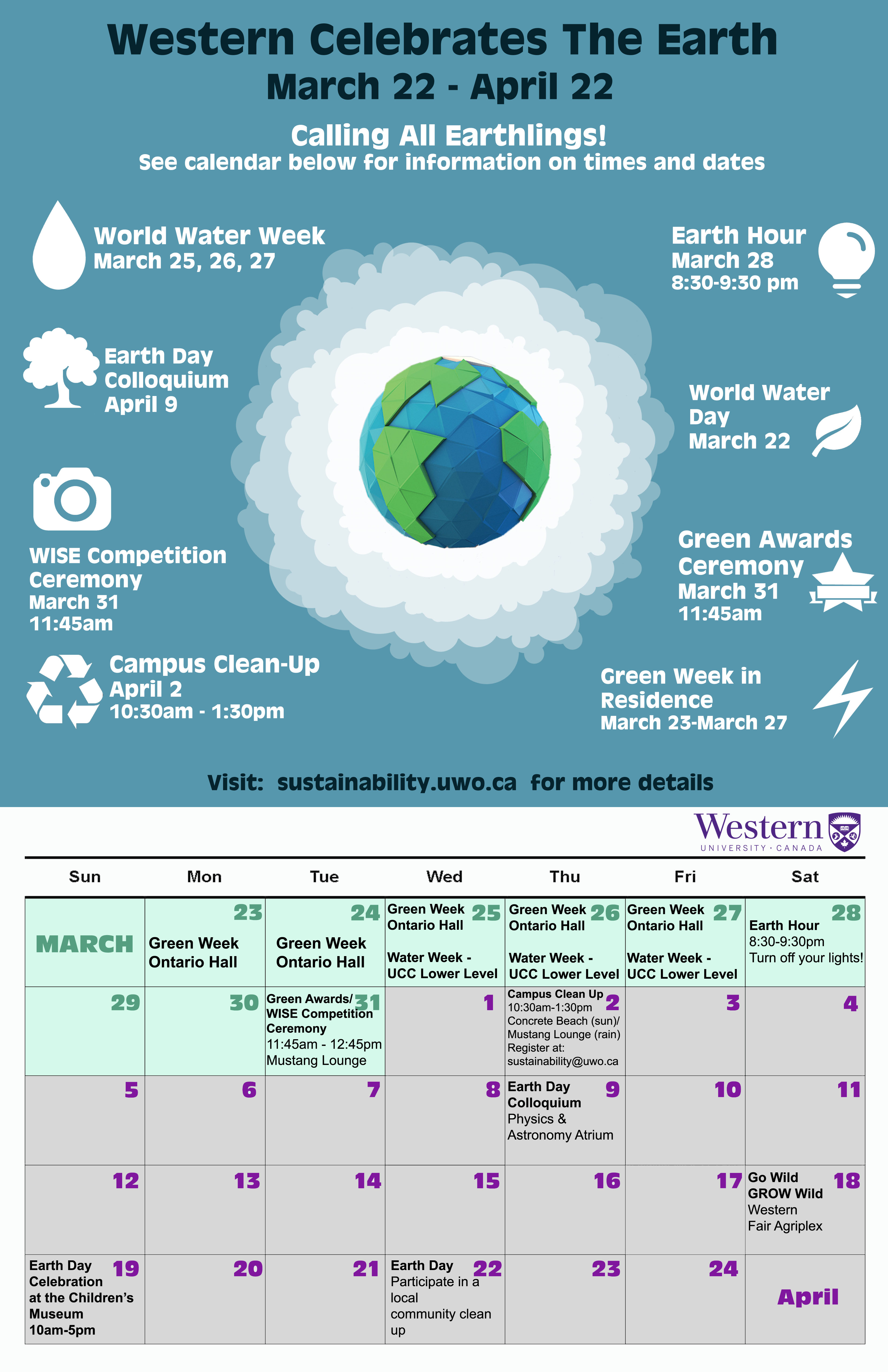 World Water Day: Sunday, March 22
This event is celebrated on March 22nd every year as a means of focusing attention on the importance of freshwater and advocating for the sustainable management of freshwater resources. For more information, please visit: http://www.unwater.org/worldwaterday
EnviroWestern's World Water Week: Wednesday, March 25 - Friday, March 27

World Water Day is held annually on March 22 as a means of focusing attention on the importance of freshwater and advocating for the sustainable management of freshwater resources.
During three days after World Water Day, EnviroWestern has planned a variety of events. These events will highlight today's demand for water, water usage at Western and ways to conserve. Please visit: https://www.facebook.com/groups/479932978809373/ for more details
World Earth Hour: 8:30-9:30PM Saturday, March 28
Every year on the last Saturday of March, the world joins together to turn the lights out from 8:30-9:30 PM. Earth Hour is the world's largest call for action on climate change and continues to grow every year.
For the hour, Western's Environmental System Control group will be shutting off all non-essential air handling units on campus to cut back on energy consumption. Everyone on and off campus can do their part as well by turning out the lights and avoiding unnecessary electricity consumption for the hour.
Western's Ideas for Sustainability and the Environment (WISE) Competition: Tuesday, March 31
Western's Ideas for Sustainability and the Environment (WISE) Competition was established in 2014 to foster innovative and high-impact ideas that reduce or eliminate today's most pressing environmental concerns. The ceremony to celebrate the winners will be held from 11:45am-12:45pm in Mustang Lounge West. Stop by and hear about innovative and impactful sustainability research.
Green Awards Ceremony: Tuesday, March 31
The eighth annual Green Awards Ceremony will be held from 11:45am-12:45pm in Mustang Lounge West. Stop by and learn about some of the exciting sustainability work that members of the Western community are involved in.
Campus Clean Up: Thursday, April 2
Western will be hosting a Campus Clean Up on Thursday, April 2. The event is open to all students, staff and faculty at Western, and is a great way to show appreciation for the University's beautiful campus.
Three clean-up times will be held throughout the day: 10:30am, 11:30am and 12:30pm. After each group returns from their clean-up, they will receive a free BBQ lunch.
Those interested in participating can send an email to sustainability@uwo.ca indicating which time slot works best for them.
Earth Day Colloquium: Thursday, April 9

The Earth Day Colloquium is organized by graduate students at Western University and is free to attend and participate in. This event aims to bring together the knowledge and research of undergraduate and graduate students and community members involved in environment and sustainability. Visit http://uwo.ca/enviro/Colloquium/EDC2015/ for more information.
Go Wild GROW Wild: Saturday, April 18
Plan to attend Southwestern Ontario's only "Get out there and enjoy it' expo! Plan to attend the region's Outdoor, Adventure, Tourism, and Native Plant Gardening Show. Visit http://gowildgrowwild.ca/expo2015 for more information.
Earth Day at London's Children's Museum - Sunday, April 19
Discover the importance of recycling, join us for a resource race, and play with renewable forms of energy. Additionally, make a stained-glass earth, a 'water' earth, and contribute to our collaborative earth mural. For more information, visit: http://www.londonchildrensmuseum.ca/index.php?cID=807
Earth Day - Wednesday, April 22