Imagine: Sustainability, Community, Engagement – A Sustainability Focused Exhibit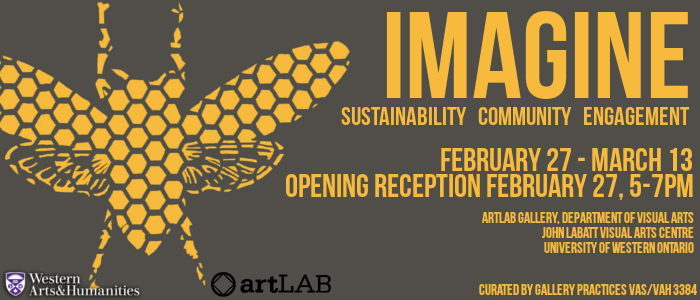 The Imagine exhibit is the result of a year-long preparation in which 18 students from a Western Gallery Practices class thought about the many nuances (problems, advantages, and ambiguities) of bringing the massive topic of sustainability to a gallery setting in a way that, at the very least, communicates meaningfully with the public. 
The students began with a term-long research project on specific topics of interest related to sustainability. Issues ranged from asbestos mining to organic living, technological waste, and the built environment.  
The final theme for their exhibition, the fate of honey bees, was culled from diverse approaches to this pressing issue. The students in the class take on the roles of both curators and artists in putting together this show. 
The opening night reception on February 27 from 5 to 7 PM at the ArtLab in the John Labatt Visual Arts Centre will feature a brief talk by local artist Ron Benner and such honeyed treats as baklava and organic teas. The exhibition will include a large-scale sculpture inspired by Nicola Parente's "Colony Collapse" and installations using jars of honey and honeycomb boxes from a local apiary. 
Gallery hours : 
Monday – Wednesday & Friday: 12:00 PM to 6:00 PM
Thursday: 12:00 PM to 8:00 PM 
The exhibit runs from February 27 to March 13. Free Admission. Class visits or tours are encouraged.
For more information, contact Susan Edelstein, Gallery Director / sedelst@uwo.ca