Sustainability Pulse survey checks status of sustainability at Western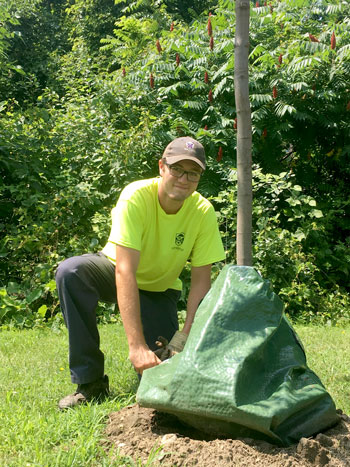 What does sustainability mean to you? And how can Western do better?
Beginning November 2, the Office of Sustainability is asking all students, staff, and faculty these and other questions as part of a new online survey aptly named, the Sustainability Pulse. The survey will remain open until November 30 and take participants approximately 10 minutes to complete. Participants who complete the survey will be entered for the chance to win a pair of Apple AirPods!
"We are excited to roll-out the survey as an annual 'check-in' of the campus community," says Heather Hyde, Director of Sustainability. "We have initiated several projects to support a more sustainable Western and we are seeking feedback."
Similar sustainability literacy surveys were conducted in 2011 and 2015, but Hyde indicates that the move to an annual review provides the frequency needed to get a more accurate gauge of current opinions.
A portion of the survey questions is designed to take the pulse of the campus community that will more broadly measure the understanding of sustainability issues.
The remaining questions seek input on past project and future planning. For example, the survey asks: "In your opinion, which sustainability initiatives should be the primary objective of the University in the coming years?"
The combined results will enhance sustainability efforts and provide a baseline for future surveys.
"Sustainability, by definition, is community-based," says Hyde. "We can only set goals and reach our objectives with the support and buy-in of everyone."
Hyde points to waste and recycling as a prime example. Facilities Management distributes bins and signs throughout campus to encourage sorting of recyclables and trash. The Sustainability Office is attempting to improve waste diversion over time, but users often sort their waste incorrectly.
"There may not be enough bins in certain areas or signs may not be clear to users or users may just not care enough to sort their recyclable," says Hyde. "There are several factors that can influence outcomes and that is why it is so critical for the administration and campus community to get on the same page."
Hyde expects the survey will bridge the gap and improve these and other programs.
Take the Sustainability Pulse survey
Following the completion of the survey, participants will have an opportunity to enter a random draw for the chance to win a pair of Apple AirPods. The survey is anonymous, and the random draw will not be used to connect responses to the individual.
Western University supports a variety of sustainability-focused engagement opportunities, such as the Western Ideas for Sustainability and the Environment (WISE) program, the Green Awards, EnviroWestern, and the Environment and Sustainability Society? Learn more about these opportunities, and how to get involved, by visiting our website: sustainability.uwo.ca