Trash Talkers
The Trash Talkers program at Western aims to divert as much waste as possible from the landfill. Sorting it right can be tricky! Through student volunteers, this program encourages sustainability engagement and leadership on a student level, as volunteers can help educate their peers on how to sort correctly, using Western's system. 
During busy lunch hours, it is very helpful to have Trash Talkers available to answer any waste sorting-related questions and show their peers and the campus community how to sort it right. This is an opportunity to contribute to making a meaningful, tangible difference on campus; and to demonstrate your leadership qualities and passion for sustainability on resumes and in interviews. 
Please note, Trash Talkers are NOT being asked to handle waste in any form. Trash Talker volunteers can answer questions and let people know how to sort their waste, but do not handle any waste directly. 
Students are encouraged to get involved in this great program, either through their residence (only if living on residence), or outdoors on campus at our Food Truck stations. Time spent volunteering for this program can be counted towards the WWF-Canada Living Planet Leader volunteer hours, a self-guided designation which students can complete over their post-secondary education. Learn more on our WWF-Canada Living Planet @ Campus web page.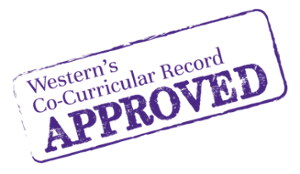 Students will earn "Trash Talker" recognition on their Co-Curricular Record for fulfilling a minimum of 3 shifts over the academic year.
This is a great way to not only help divert waste, but also to build strong connections with other students who are passionate about sustainability at Western! 
Sign up to be a Trash Talker (at outdoor Food Truck station)!
Sign up to be a Trash Talker in Residence (*must be living in residence)!