Trash Talkers
The Trash Talkers program at Western aims to divert as much waste as possible from the landfill. Sorting it right can be tricky! Through student volunteers, this program encourages sustainability engagement and leadership on a student level, as volunteers can help educate their peers on how to sort correctly, using Western's system. 
This is an opportunity to contribute to making a meaningful, tangible difference on campus, and to demonstrate your leadership qualities and passion for sustainability on resumes and in interviews. 
All students (graduate, undergraduate, affiliate, main) are encouraged to get involved with this program! Time spent volunteering as a Trash Talker can be counted towards the WWF-Canada Living Planet Leader volunteer hours, a self-guided designation which students can complete over their post-secondary education. Learn more on our WWF-Canada Living Planet @ Campus  page.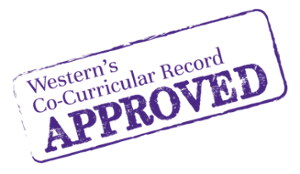 Students will earn "Trash Talker" recognition on their Co-Curricular Record for creating 1 short Trash Talker video (See example video here). Volunteers can work individually or in small groups. Each person/group who creates a video will earn the Trash Talker designation on their Co-Curricular Record!
We provide training on Sorting at Western, access to a Trash Talker OWL site, and guidance and support for video content and creative direction. Volunteers are encouraged to get creative and consider how we can communicate complicated waste diversion messages across the campus community in an easy-to-understand format.
This is a great way to not only help divert waste, but also to build strong connections with other students who are passionate about sustainability at Western!
Email sustainability@uwo.ca to sign up (sign-ups welcome anytime).