Sustainability Tracking Assessment & Rating System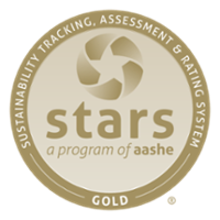 The Sustainability Tracking Assessment and Rating System (STARS) awarded Western a gold rating for its sustainability efforts on campus. As of December 2014, the university is one of three in Canada with a gold rating under STARS 2.0, the most recent version of the system. Simon Fraser University and the University of Victoria join Western on the podium with a gold rating.
Western's 2014 submission received 67 per cent of credits. In 2011, Western scored 52 per cent of the required credits in the rating system, earning a silver. Every three years, organizations can submit a report to STARS. The university's 15-point improvement comes from collaboration by faculties and units from all across campus, as well as a more engaged student population.
The Green Campus Series, a green education program that provides students with knowledge and experience using the campus as a living case study is another great initiative that helped Western to achieve its gold status. Four modules offer students a unique exposure to the university's environmental sustainability initiatives. Students attain practical knowledge on topics including green buildings, energy and water efficiency, habitat protection, and responsible landscape management practices through a presentation and corresponding campus tour. 
With more collaboration and understanding of STARS, maintaining a sustainable environment on campus has become a university-wide initiative. Western scored perfectly in the area of the report dedicated to the proportion of faculty involved in sustainability research.
One of Western's sustainability goals is to decrease its main campus direct greenhouse gas (GHG) emissions based on its 2009 levels. In its 2011 STARS submission, Western's GHC levels had not decreased in the previous five years, but instead had increased by 13 per cent. In its most recent STARS submission, Western has greatly improved, reducing its emissions by almost 12 per cent despite significant infrastructure growth on campus, earning more credits with STARS.
More information is listed below about the STARS framework:
The Sustainability Tracking, Assessment & Rating System (STARS) is a framework for colleges and universities in Canada and the United States to measure their sustainability performance. A common set of measurements within the categories of Education and Research, Planning Administration and Engagement, and Operations allows post-secondary institutions to compare their sustainability progress over time. The results and answers of each STARS assessment are displayed at:
https://stars.aashe.org/institutions/rated/
for all to see, creating incentives for continual improvement toward sustainability. This public forum also facilitates information sharing about sustainability practices, performances and policies.
STARS applicants are given ratings based on their sustainability score. Only positive ratings are available through STARS, therefore each rating level represents significant sustainability leadership. The scoring is as follows:
| Rating Level | Minimum Score Required |
| --- | --- |
| Reporter | For institutions that wish to use STARS and submit data publicly, but are not pursuing a rating |
| Bronze | 25 |
| Silver | 45 |
| Gold | 65 |
| Platinum | 85 |